One of the reasons most retail investors perform so poorly in stock investing is that they tend to chase performance. Investors always go with the hottest theme or stock that driving the markets at any given time. During the late 1990s it was tech stocks, energy and security stocks after the 9/11 attacks, banking and other financial stocks leading up to the global credit crisis,  etc. When more investors chase the same stock or fund or a theme prices go up to unsustainable levels and at some time the mania ends and the bubble bursts.
Investing in markets is about buying low and selling high. Many investors end up doing the opposite by chasing performance. The disastrous effect of chasing performance is shown in the chart below:
Click to enlarge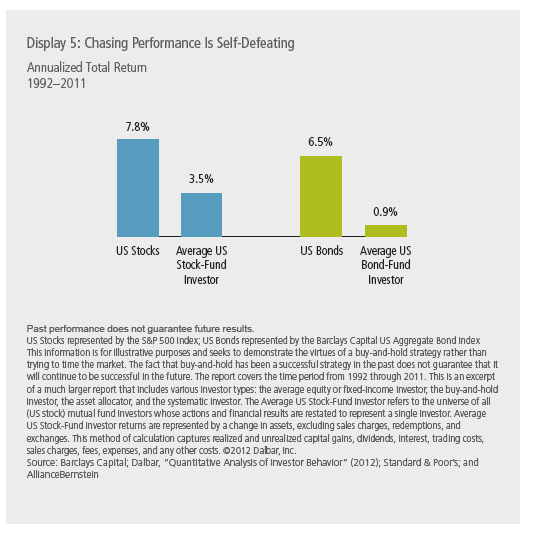 Source: Desparately Seeking Safety, Seth J Masters, Alliance Bernstein
The average stock investor earned less than half of the annualized total returns generated by the S&P 500 from 1992 thru 2011. The average bond investor performed even worse earning less than 1% compared to the U.S. bonds return of 6.5%.
The main reason for the poor performance of the average investor is that they sold stocks and bonds that performed poorly to buy stocks and bonds that performed well. This led them to sell low and buy high.
So the key takeaway from this post is that investors should always stay clear of the hottest trend in the market and instead focus on buying low and selling high.
Related ETFs:
SPDR S&P 500 ETF (SPY)
SPDR Gold Trust ETF (GLD)
iShares Silver Trust ETF (SLV)
United States Natural Gas Fund (UNG)
United States Oil Fund (USO)
Disclosure: No Positions