The EURO STOXX® Chemicals Index is composed of some of the largest chemical firms in Europe. Currently there are 16 components in this index.
The long-term return of the index is shown below:
Click to enlarge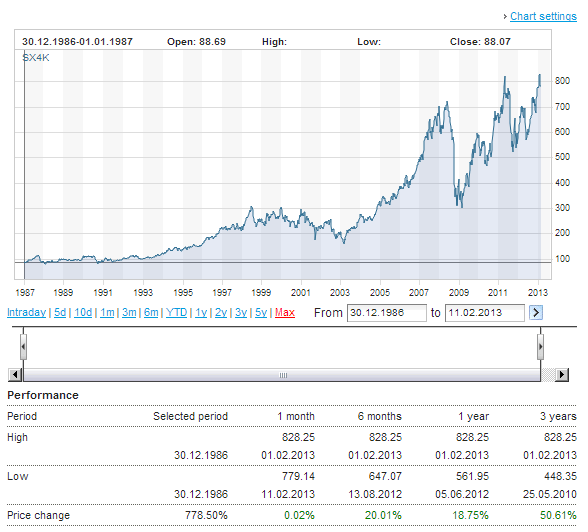 Source: Euro Stoxx Indices
For investors looking to gain exposure to the European chemical industry the companies in the index offer excellent choices.In five years the index is up about 39% in US $ terms.
Five components from the EURO STOXX® Chemicals Index is listed below with their ticker and current dividend yield for further research:
1.Company:Air Liquide (AIQUY)
Current Dividend Yield: 2.35%
Country: France
2.Company: Akzo Nobel NV (AKZOY)
Current Dividend Yield:
Country: The Netherlands
3.Company: Arkema SA(ARKAY)
Current Dividend Yield:
Country: France
4.Company: BASFY AG (BASFY)
Current Dividend Yield:
Country: Germany
5.Company: bayer AG (BAYRY)
Current Dividend Yield:
Country: Germany
Note: Dividend yields noted are as of Feb 11, 2013
Disclosure: No Positions