Fertilizer and industrial gas companies are increasing their capital investments as measured by the ratio of capital expenditures to revenue levels according to a study by the ICIS Chemical Business magazine. From the ICIS Top 100 Chemical Companies 2012 report:
For the second year running, the biggest spenders were dominated by fertilizer producers and industrial gas companies, as represented by an analysis of the ratio of capital expenditures to revenue levels. Fertilizer producers are undergoing a multi-year capital investment cycle to bring new fertilizer capacity on stream.

Industrial gas companies are seeing strong demand for their products from Asia and higher levels of capital expenditures are an integral part of their business model to supply their customers with their gaseous needs.
Click to enlarge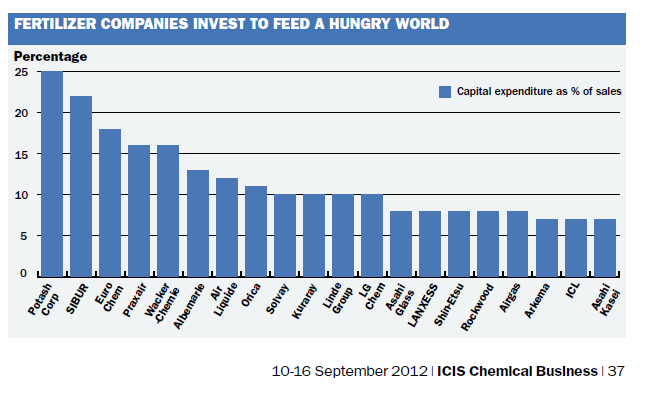 Source: ICIS Chemical Business
The world's population is 7,053,055,457 as of Nov 18, 2012 and is projected to grow to over by 7.4 to 10.6 billion by the year 2050.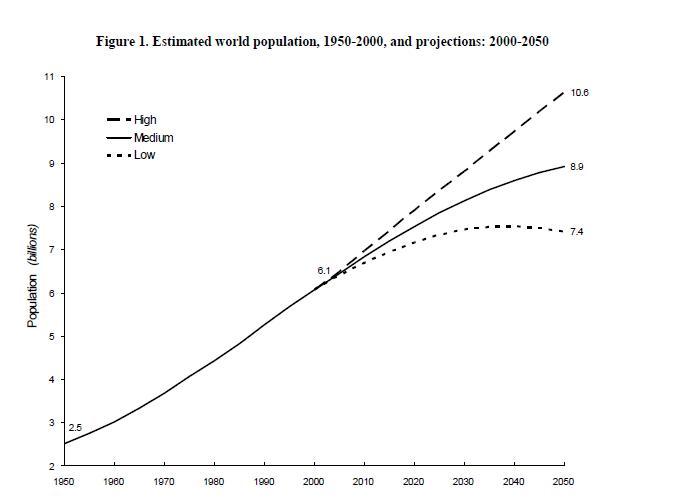 Source: World Population to 2300, United Nations
Higher population means higher demand for food which in turn drives the demand for fertilizer. Hence it is not surprising to see global fertilizer firms increase their capital investments to meet the world's fertilizer needs.
Similar to fertilizers, industrial gases are also one of the main necessities of the modern world. From an article I wrote in 2010:
Industrial gases are a group of gases that are used in many industries such as metal, polymer, food, medical, oil refining industries. Like utilities and consumer staples, this sector can be considered as a stable and relatively safe industry to invest in during all market conditions.

Some of the industrial gases are Acetylene, Hydrogen, Oxygen, Nitrogen, Carbon dioxide and Argon. These gases can be transported in either compressed, liquid, or solid forms. Acetylene is used for cutting steel and for welding. Hydrogen is used in the edible fat and oil industries where it is used to hydrogenate vegetable oils to make margarine. Carbon dioxide is used to carbonate soft drinks, beers, etc. It is also used to remove caffeine from coffee beans to make decaffeinated coffee. Nitrogen is used for cooling many mechanical equipments that needs to be extremely cold in the food industry.In addition to the medical industry, Oxygen is used in the steel industry to remove impurities in the steel. Since Argon is highly un-reactive it is used to protect very hot metal such as molten metal.
Based  on the factors noted above, investments in fertilizer and  industrial gas stocks is a sound strategy. Companies shown from the ICIS chart above that trade on the US markets are listed below:
1.Company: Potash Corp (POT)
Current Dividend Yield: 2.25%
Country: Canada
2.Company: Praxair (PX)
Current Dividend Yield: 2.11%
Country: USA
3.Company: Air Liquide (AIQUY)
Current Dividend Yield: 2.51%
Country: France
4.Company: Solvay (SVYZY)
Current Dividend Yield: 3.32%
Country: France
5.Company: Linde AG (LNEGY)
Current Dividend Yield: 2.03%
Country:Germany
6.Company: AirGas (ARG)
Current Dividend Yield: 1.85%
Country: USA
7.Company: Arkema (ARKAY)
Current Dividend Yield: 1.76%
Country: France
8.Company: Asahi Glass Co. Ltd.(ASGLY)
Current Dividend Yield: 4.58%
Country: Japan
9.Company: Rockwood Holdings, Inc.(ROC)
Current Dividend Yield: 3.29%
Country:
11.Company:Asahi Kasei (AHKSY)
Current Dividend Yield: 3.17%
Country: Japan
Note: Dividend yields noted are as of Nov 18, 2012
Disclosure: No Positions