Emerging market economies grew faster than developed world economies for many years now and this trend is projected to continue for the foreseeable future. For example, this year the U.S. economy is estimated to grow by just under 2%. Compared to this low growth rate, the GDPs of Brazil, China and India are forecast to grow by around 3%, 8% and 6% respectively.
One of the key sectors to benefi from the higher economic growth in emerging markets is the consumer-products sector. This is because the rising middle class consumers in these markets yearn for consumer goods such as tooth paste, household cleaning products, health and beauty products, appliances, instant foods, etc. Unlike the saturated markets of developed countries, the consumption culture is in the early stages of explosive growth in emerging countries. Companies that are able to understand the dynamics of these markets and successfully cater to the demands of the consumers are bound to profit from the growth.
Many western multinational consumer-goods firms already have strong presence in emerging markets. In this post let me discuss six such multinationals based on an article in a recent issue of Bloomberg BusinessWeek.
From "In Emerging Markets, Unilever Finds a Passport to Profit" :
From the markets of Southeast Asia to the aisles of American supercenters, that message is spreading. The Anglo-Dutch maker of household staples such as Dove soap and Lipton tea has accelerated its sales growth, new-product development, and presence in emerging markets over the past three years while many of its rivals in the $7 trillion consumer-goods sector, Procter & Gamble (PG) in particular, are struggling amid the prolonged economic downturn. "It's Unilever's moment in the sun," says Harold Thompson, a Deutsche Bank (DB) analyst who has spent a decade following the company, which sells 400 brands in 190 countries.

Unilever's newfound luster—its sales are growing at more than double the rate of P&G's—comes courtesy of emerging markets such as Indonesia, which comprise 55 percent of sales, up from just 20 percent in 1990. That's a higher proportion than at peers like P&G, France's L'Oréal (OR), Swiss-based Nestlé (NESN), Germany's Beiersdorf (BEI), and Britain's Reckitt Benckiser (RB/). In the third quarter, Unilever's emerging-market sales rose 12.1 percent, its sixth consecutive quarter of double-digit gains.
Click to enlarge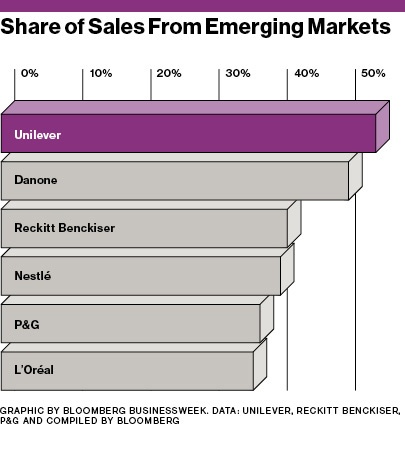 Source: In Emerging Markets, Unilever Finds a Passport to Profit, Bloomberg BusinessWeek
The the tickers on the US markets for the above firms and the current dividend yields are listed below:
1.Company: Unilever PLC (UL)
Current Dividend Yield: 3.11%
Country: UK
2.Company: Unilever NV (UN)
Current Dividend Yield: 3.10%
Country: The Netherlands
3.Company: Danone SA (DANOY)
Current Dividend Yield: 2.54%
Country: France
4.Company: Reckitt Benckiser Group PLC (RBGLY)
Current Dividend Yield: 2.92%
Country: UK
5.Company: Procter & Gamble Co (PG)
Current Dividend Yield: 3.00%
Country: USA
6.Company: L'Oreal SA (LRLCY)
Current Dividend Yield: 1.72%
Country: France
Note: Dividend yields noted are as of Jan 30, 2013
Among the companies note above, Unilever has the highest sales from emerging markets. The company owns more than 400 brands including Lifebuoy, Sunlight, Lipton and Pond's and 12 of those brands generates sales in excess of €1 billion a year.
Some of the top brands of Danone include Activia and Oikos yougurt, and Evian mineral water.UK-based Reckitt Benckiser Group is the owner of many popular global brands such as Calgon, Air Wick, Dettol, Clearasil, Durex, etc.
For over 140 years Swiss-based Nestle has been a top innovator and maker of high quality consumer products.Nestle's brand portfolio include well-known brands such as Kitkat, Toll House, Gerber, Milo, NesCafe, etc.The company is also having a strong growth in its water business in China.
Cincinatti,Ohio-based Procter & Gamble Co has 50 leaderships brands which generate 90% of its sales and more than 90% of the profits. Pantene, Mach 3, Scope, Pert, Crest, Ariel, Vicks are some of P&G's brands.
The cosmetics leader L'Oreal had sales of over €20.3 billion in 2011.The company sells over 27 brands in 130 countries.
Disclosure: Long RBGLY