While most investors have been focused on the fall in Apple's (AAPL) market capitalization in the past few weeks, another interesting development related to market caps took place today in the world of foreign oil companies. Ecopetrol (EC) of Colombia overtook Brazil's oil major Petrobras(PBR) in terms of market capitalization despite Petrobras producing three times as much oil and gas, according to a post in FT beyondbrics blog.
The five year performance comparison of the Ecopetrol and Petrobras ADRs is shown below:
Click to enlarge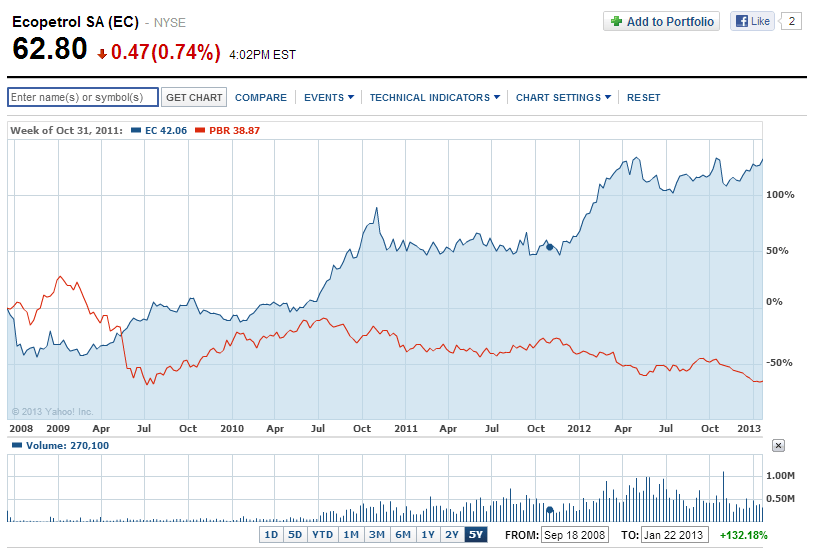 Source: Yahoo Finance
Based on the today's closing prices in New York, Ecopetrol's market cap is over $129.1 billion compared to Petrobras' $127.25 billion.
Ecopetrol's ADR started trading on the NYSE in September, 2008 and has risen almost consistently ever since. Petrobras' ADR, on the other hand, was listed on the NYSE in August 2000 and the stock has had 2 for 1 splits in 2007 and 2008. However in the past few years Petrobras' stock has been performed poorly due to investors' dissatisfaction with some of the political interference in the company. It will be interesting to watch if Ecopetrol is able to continue the exponential growth.
Disclosure: Long PBR