Many U.S. companies are increasing share buybacks to goose up earnings. Buybacks of own shares is the preferred method for some companies to put unused cash to work. While theoretically  buying back shares should reduce the number of outstanding shares and increase earnings per share it is not happening in the real world, according to an article the Journal. This is because, according to the article, companies issues new shares to employees thereby increasing the share count and effectively canceling the benefit of share buybacks. Buybacks is the worst form of strategy any company can follow. Some of the reasons for this conclusion include:
Share buybacks is unproductive use of cash
Buybacks are mainly financial engineering to raise share prices
Companies tend to buy their shares when prices are high or at peaks
Unlike paying back earnings to investors in the form of dividends, buybacks is not beneficial to outside shareholders. However it benefits insiders to manipulate stock prices to cash in on their options.
Buying back own stock does not require any intelligent corporate strategy and gives an "easy way" out for overpaid executives to waste shareholders' equity.
Buyback is a short-term strategy that hurts long-term investors more and rewards insiders and traders who can take advantage of rise in share prices.
From "Investors See a Way Forward: Buybacks":
In the 18 months between April 2011 and October 2012, the most recent period for which data is available, companies in the S&P 500 retired a net eight billion shares through buybacks, according to FactSet. At the end of the third quarter last year, about 300 billion shares were outstanding for S&P 500 companies, the lowest quarter-end total since the middle of 2009.

Many investors expect buybacks to continue in 2013, with companies finding fewer productive uses for their excess cash.
Click to enlarge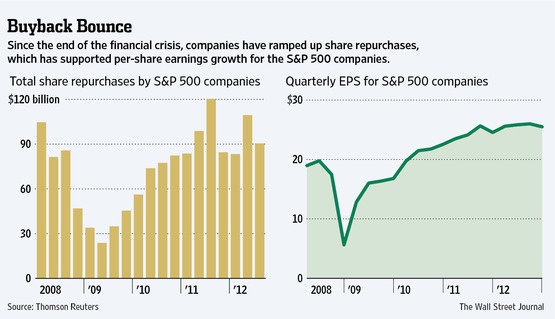 Source: Investors See a Way Forward: Buybacks, The Wall Street Journal
In recent years, US firms have spent more on share buybacks than they paid out in dividends to shareholders. Investors may want to avoid firms that tend be big proponents of this strategy. Some of the companies mentioned in the article that are big spenders on share buybacks are Assurant(AIZ), bottler Coca-Cola Enterprises(CCE) and hotel operator Wyndham Worldwide(WYN).
Disclosure: No Positions