In an article earlier this month I discussed about the growing dividend yields and payout ratios of emerging markets compared to the developed markets. As a followup, in this post let us take a look at how the dividend payout ratio compares across Europe (ex-UK), emerging markets and the U.S.
Click to enlarge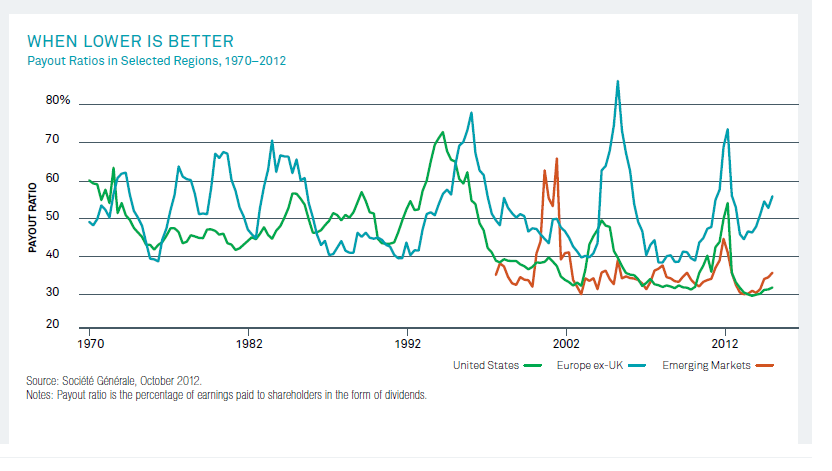 Source: Slow Turn Ahead, 2013 Investment Outlook, Blackrock
The dividend payout ratio of US companies is at near record lows.Currently the yield on the S&P 500 is 2.07%. Emerging companies have higher payout ratios than American companies. However European firms have the highest payout ratios. Many European firms have policies to return 40% or more of their profits to shareholders. Hence it is not surprising to see that on an average the payout ratio for the region exceeds 55% as shown in the chart above. Another striking feature is that European companies have been paying out a higher portion of their profits than US firms since the 1970s for the most past. So the key takeaway here is that investors looking for income should have at least some exposure to European stocks.
Ten European stocks from the S&P Europe 350 Dividend Aristocrats index are listed below for further research. From the Standard & Poor's website:
S&P Europe 350 Dividend Aristocrats is designed to measure the performance of S&P Europe 350 index constituents that have followed a policy of consistently increasing dividends every year for at least 10 consecutive years, have a float-adjusted market capitalization of at least US$ 3 billion and have an average daily trading volume of at least US$ 5 million.
1.Company: Fresenius Medical Care AG & Co (FMS)
Current Dividend Yield: 1.29%
Sector:Healthcare Facilities
Country:  Germany
2. Company: Novo Nordisk A/S (NVO)
Current Dividend Yield: 1.55%
Sector:Biotechnology & Drugs
Country: Denmark
3. Company:Nestle SA (NSRGY)
Current Dividend Yield: 3.23%
Sector:Beverages (Nonalcoholic)
Country: Switzerland
4. Company: Sanofi SA (SNY)
Current Dividend Yield: 3.58%
Sector:Biotechnology & Drugs
Country: France
5.Company: Danone SA (DANOY)
Current Dividend Yield: 2.73%
Sector: Food Processing
Country: France
6.Company:  Novartis AG (NVS)
Current Dividend Yield: 3.94%
Sector: Major Drugs
Country: Switzerland
7. Company:  Red Electrica Corporacion SA (RDEIY)
Current Dividend Yield: 5.73%
Sector:  Electric Power Grid Operator
Country: Spain
8. Company:L'Oreal SA (LRLCY)
Current Dividend Yield: 1.90%
Sector:Personal & Household Products
Country: France
9. Company:Swedish Match AB (SMWAY)
Current Dividend Yield: 2.76%
Sector: Maker of tobacco products, matches and lighters
Country: Sweden
10. Company:Roche Holding AG (RHHBY)
Current Dividend Yield: 3.59%
Sector: Major Drugs
Country: Switzerland
Disclosure: No Positions