BNY Mellon, the depository for many Russian DR programs has posted an update on the automatic conversion of Russian ADRs and GDRs to the ordinary shares trading on the local market. This update provides answers to some of the questions that owners of Russian ADRs may have. The automatic conversion starts from 8/31/22 to 9/6/22 and includes major ADRs like the oil giant Gazprom.
Below is an excerpt from the notice:
NOTICE TO HOLDERS OF AMERICAN AND GLOBAL DEPOSITARY SHARES REPRESENTING DEPOSITED SHARES OF RUSSIAN-INCORPORATED ISSUERS ("Russian DR Programs")

Further to our notices of July 14, 2022 and August 1, 2022, BNY Mellon has been advised by its Russian custodian that Automatic Depositary receipt ("DR") conversions for certain Russian DR Programs could begin as early as August 30, 2022.

The table in Annex I of this notice lists Russian DR Programs in-scope for Automatic DR conversions and the anticipated date that Automatic DR conversions may occur for each Russian DR Program.

Should BNY Mellon receive notification from its Russian custodian that shares underlying a specific Russian DR Program will be automatically removed from BNY Mellon's account with its Russian custodian, BNY Mellon will immediately close the relevant Russian DR Program books for cancellation of DRs in accordance with the applicable Deposit Agreement and will not be able to process any corporate actions with respect to that Program (including voting) until a complete reconciliation of its books and records against DRs outstanding may be achieved.

Note that BNY Mellon cannot guarantee that such reconciliation will be possible, and, to the extent such reconciliation is not possible, the relevant Russian DR Program books will not be reopened.

As a reminder, under the mandatory provisions of the DR Delisting Law, BNY Mellon as Depositary will be disintermediated from DR cancellations using the Automatic DR Conversion procedures (described in detail in our notice of July 14, 2022).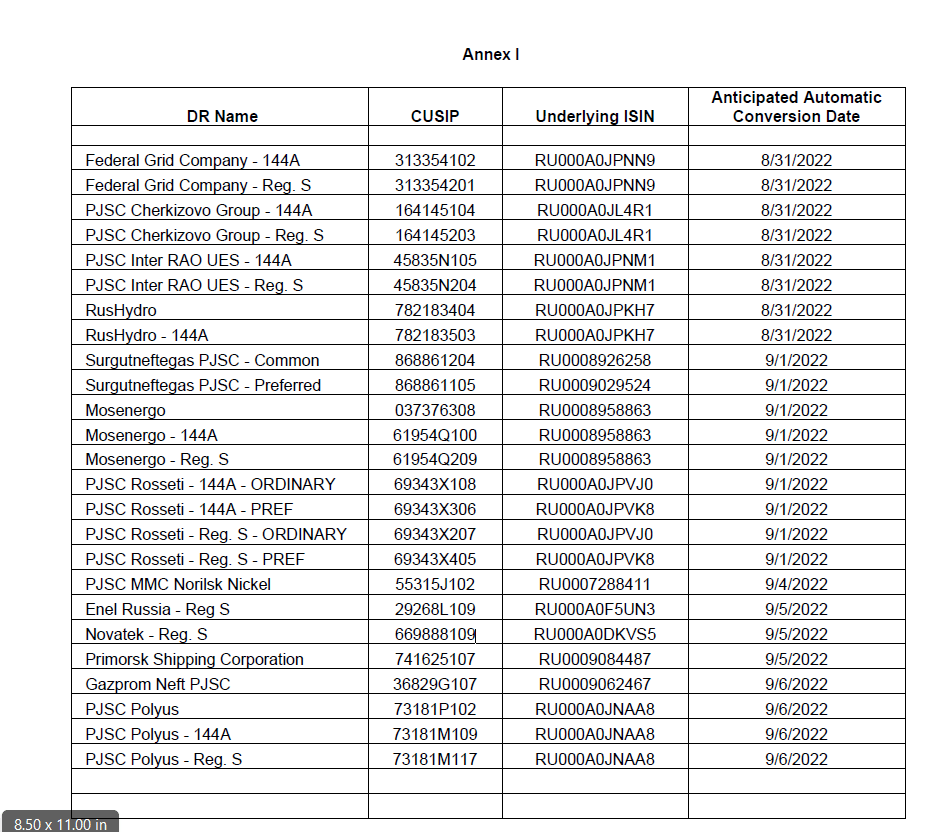 Source: BNY Mellon
For more details please review the full notice at the above link.