One way to gain exposure to growing economies outside of the U.S. is to simply invest in companies that generate a larger portion of their revenue from those economies. The advantage with this strategy is information about these firms is much easier to find and investors may already know most of these firms and their products. For example, many of the products of Johnson & Johnson (JNJ) and Procter and Gamble  (PG) are sold in the country and investors may buy those products on a weekly if not more frequent basis. These companies sell some of the same products in other countries sometimes under different brand names.
Another important benefit of investing in these companies is that they are able to have stronger earnings as the sales in foreign economies helps offset lower sales in the domestic market. Investors looking to add U.S. multinationals with rising revenues from foreign countries can consider the firms shown in the chart below:
Click to enlarge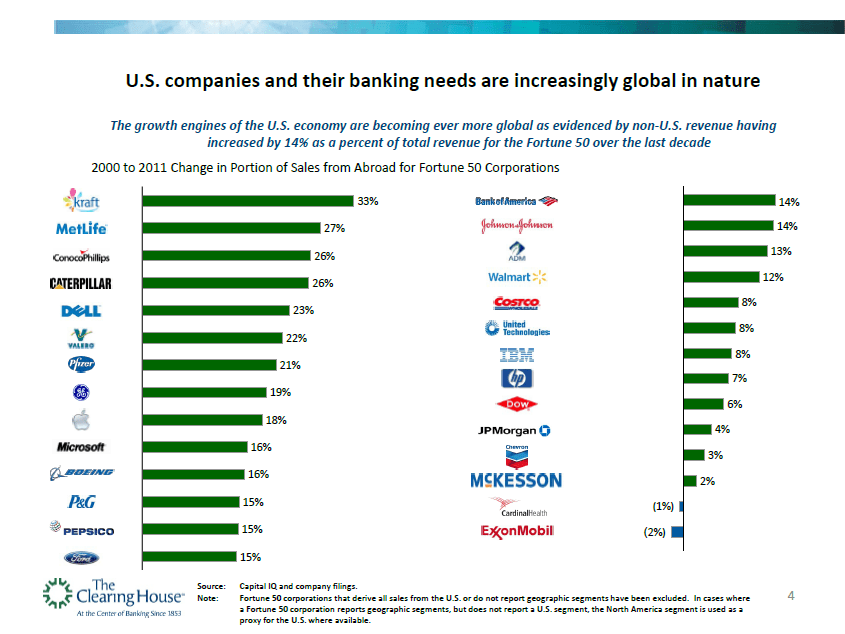 Source:  SCALED TO SERVE: THE ROLE OF COMMERCIAL BANKS IN THE U.S. ECONOMY, July 2012, The Clearing House
Demand for Caterpillar's (CAT) products is high in emerging markets such as China due to high infrastructure development there. Kraft's (KFT) purchase of British confectioner Cadbury in 2010 gives it more reach in fast-growing emerging markets. Tech giant IBM's (IBM) earnings has remained strong in recent years due to the increase in outsourcing of services by companies and government agencies to reduce costs.
Disclosure: No Positions