The British equity market offers many excellent companies for investors looking to add some exposure to UK and also earn a higher total return. Five reasons for investing in British stocks are listed below:
The current dividend yield for UK is 3.4% compared to 2.2% for the US market.
Due to the tax treaty with the US, the UK withholding taxes on dividends paid by British companies to US residents is 0%. However there is a 20% withholding tax applied to distributions made by UK REITs.
More than 60% of FTSE-100 companies' revenue come from other countries.
Many British multinationals have strong presence in most of the emerging and frontier countries due to strong ties dating back to the colonial times.
Among the European countries, the UK economy is one of the few economies that is in recovery mode. More importantly, the private sector is adding jobs and the public sector employment now remains at the lowest level since 2002, according to an article in The Guardian.
The following chart shows the effect of reinvesting dividends based on UK's FTSE All-Share index:
Click to enlarge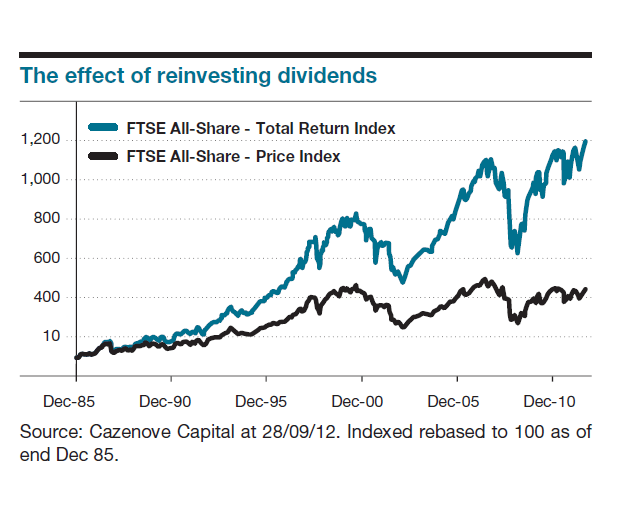 Source: The case for income investing, Cazenove Capital Management
Ten British ADRs are listed below with their current dividend yields:
1.Company:National Grid PLC (NGG)
Current Dividend Yield: 5.54%
Sector:Electric Utilities
2.Company: Diageo PLC (DEO)
Current Dividend Yield: 2.38%
Sector:Beverages (Alcoholic)
3.Company: Centrica PLC (CPYYY)
Current Dividend Yield: 4.50%
Sector:Natural Gas Utilities
4.Company: GlaxoSmithKline PLC (GSK)
Current Dividend Yield: 5.31%
Sector:Major Drugs
5.Company: Unilever PLC (UL)
Current Dividend Yield: 3.95%
Sector:Food Processing
6.Company: Vodafone Group PLC (VOD)
Current Dividend Yield: 6.09%
Sector:Telecom
7.Company: Royal Dutch Shell PLC (RDS.B)
Current Dividend Yield: 4.83%
Sector:Oil & Gas Producer
8.Company: Imperial Tobacco Group PL (ITYBY)
Current Dividend Yield: 4.36%
Sector:Tobacco
9.Company: British American Tobacco PLC (BTI)
Current Dividend Yield: 4.17%
Sector:Tobacco
10.Company: Aviva PLC (AV)
Current Dividend Yield: 6.59%
Sector: Life Insurance
Note: Dividend yields noted are as of Dec 21, 2012
Disclosure: No Positions