Investing in emerging and frontier markets involves higher risks compared to investing in developed markets.However for investors willing to learn and explore opportunities in the emerging world the rewards can be substantial. The returns can be especially high over a period of many years when the compounding effect comes into play.
The Average Annualized Equity Returns for select Rapid Growth Markets(RGMs) is shown below:
Click to enlarge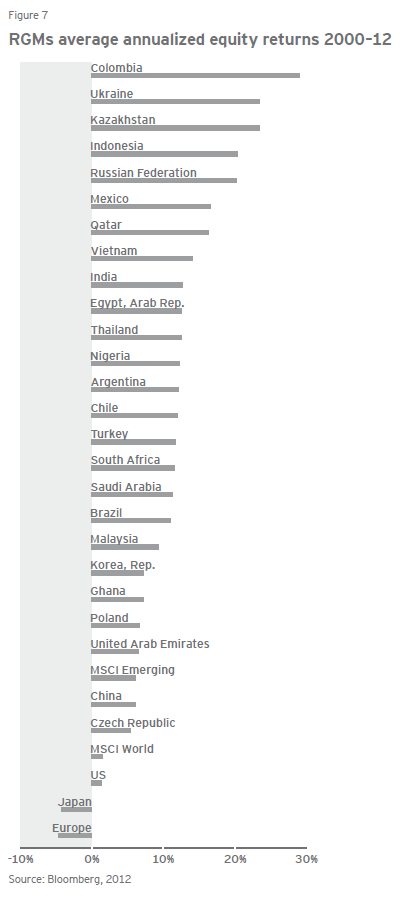 Source: Rapid-growth markets: Moving toward the mainstream, Ernst & Young
Colombia was the top performer with a solid annualized return of 29% followed by Ukraine, Kazakhstan, Indonesia and Russia. Since global commodities such as oil soared during the period shown above it is not surprising to see Colombia and Russia are among the top of the list. The movement of Russian equity market is highly correlated to the price of crude oil.
Relative to the double growth of these markets, the S&P 500 grew by just 1.5% and European equities fell by an annualized rate of 4.6% respectively. In the past 12 years, the annualized return of MSCI Emerging Markets Index and the MSCI World Index were 6.2% and 1.6% respectively.
From the E&Y research report:
The difference in returns, compounded over this period, would have been considerable. For example, US$100 invested in Colombia's stock market in 2000 would be worth approximately US$2,700 by 2012. For the Chinese, American and Japanese stock markets the corresponding returns would have been US$217, US$121 and US$56 respectively.
US equities fared very poorly when compared to the emerging equities although they were better than Japanese and European equities. European stocks had negative returns primarily due to the fall in prices during the debt crisis there in the past few years.
Ten emerging market ADRs from some of the countries in the above chart are listed below for further further research:
1.Company: PetroChina Co Ltd (PTR)
Current Dividend Yield: 3.61%
Sector:Oil & Gas Operations
Country: China
2.Company:Bancolombia SA (CIB)
Current Dividend Yield: 2.33%
Sector: Banking
Country: Colombia
3.Company:Coca Cola Femsa SAB de CV (KOF)
Current Dividend Yield: 1.33%
Sector:Beverages (Nonalcoholic)
Country: Mexico
4.Company:HDFC Bank Ltd (HDB)
Current Dividend Yield: 0.56%
Sector: Banking
Country: India
5.Company: Banco Santander-Chile (BSAC)
Current Dividend Yield: 4.16%
Sector: Banking
Country: Chile
6.Company: Ultrapar Participacoes SA (UGP)
Current Dividend Yield: 2.61%
Sector:Retail (Specialty)
Country: Brazil
7.Company:CPFL Energy INC (CPL)
Current Dividend Yield: 6.85%
Sector: Electric Utilities
Country: Brazil
8.Company: Malayan Banking Bhd (MLYBY)
Current Dividend Yield: 7.20%
Sector: Banking
Country: Malaysia
9.Company: Sasol Ltd (SSL)
Current Dividend Yield: 4.83%
Sector:Chemical Manufacturing
Country: South Africa
10.Company: Latam Airlines Group SA (LFL)
Current Dividend Yield: 2.02%
Sector: Airline
Country: Chile
Note: Dividend Yields noted are as of Dec 13, 2012
Disclosure: No Positions