Apple(AAPL) stock reached a peak of  $705.07 earlier this year and became the most valuable company in the world. Yesterday it closed at $529.69 and the market capitalization stands at $498.3 billion.
Japan's Sony Corp's (SNE) stock trading in Tokyo reached the lowest price since 1980, a year after the company introduced Walkman. Sony's market capitalization has fallen around 90% since the start of the millennium. Sony's product used to command a premium for their quality and consumers were willing to pay for the company's cool and innovative products. Sony had last that edge in recent years due to competition from rivals including Apple. Yesterday the ADR closed at $10.73 in New York giving the company a market value of $10.8 billion.
I came across the following chart in article at Asia Times Online. Unlike Sony, Apple continues to come out with products that consumers want and charge a premium for its world-class products.  The company is especially successful with the design of its products and the softwares that run them.
Click to enlarge
Apple Inc (moved 12 years forward) vs. Sony stock price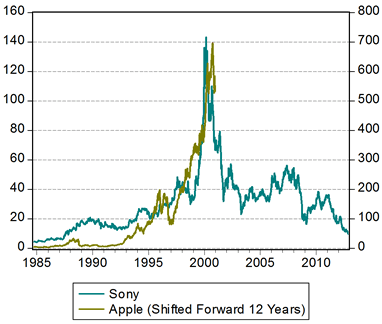 Source: What's bad for Apple is good for America, by Spengler, Asia Times Online
Disclosure:  No Positions