The German economy grew sharply by 2.2% in the second quarter of this year according to data released on Friday. This figure is the highest recorded since the reunification of East and West Germany.
From an article in The Economist blog:
"The success of the euro-area's largest economy owed a lot to a surge in exports (much of it to emerging markets) and to investment by firms at home looking to upgrade and expand their capital stock to meet that demand. Germany's talent for bespoke engineering and sleek cars fits well with the needs of fast-industrialising countries and their new middle classes. China is a prized customer for the German firms that supply kit for power plants and other infrastructure projects. Small producers of niche capital goods have also seen a surge in orders. German cars have been selling well to affluent consumers in emerging markets. Sales of luxury Mercedes cars to China tripled in the year to July. Sales to India more than doubled. Other carmakers, such as VW and BMW, have prospered too."
Germany's Top Trading Partners in 2009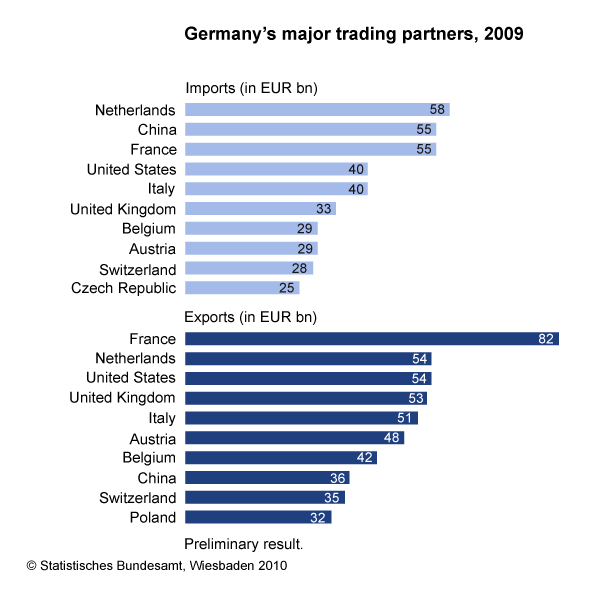 Germany's Top Export Goods in 2009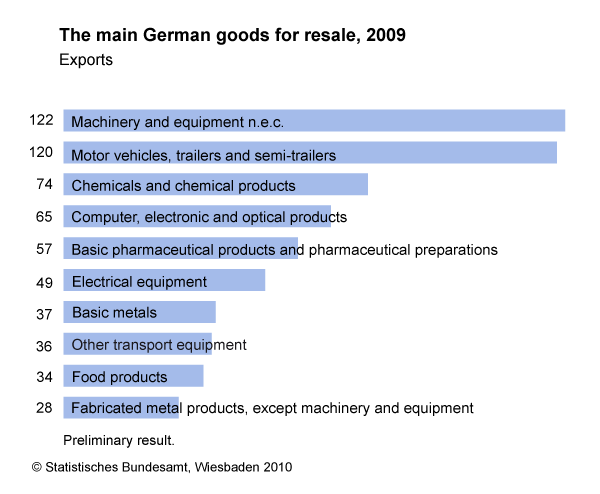 Source: Federal Statistical Office
European countries are the top exports for German goods as shown in the chart above. However exports to China and other emerging countries are growing at a faster pace. Machinery, automobiles & parts and Chemicals are the top three export sectors accounting for about 40% of total exports in 2009.
In terms of investment opportunities, just five German companies currently trade on the organized US exchanges with many others on the OTC markets. The US exchange-listed German stocks are Aixtron (AIXG), Deutsche Bank(DB), Fresenius Medical Care(FMS), SAP (SAP) and Siemens(SI). Many large German firms do not trade on the US markets. For example, Germany's largest steel maker Thyssenkrupp is not listed in the US markets. However the iShares MSCI Germany ETF (EWG) offer exposure to 51 stocks including Thyssenkrup.Financials account for 20% of the portfolio. The total net assets of the fund is $1.5B and the expense ratio is 0.55%.
Related:
The Top Trade Partners of Germany 2012