Emerging market stocks have traditionally been favored by investors for their price appreciation potential. Most emerging markets were not known for high dividend yields and investors did not focus their attention on emerging market stocks for their dividend yields. However that need not be the case now as many emerging market companies pay high and consistent dividends similar to those in developed markets.
The following chart shows the Dividend Per Share(DPS) and Earnings Per Share(EPS) for the MSCI Emerging Market Index:
Click to enlarge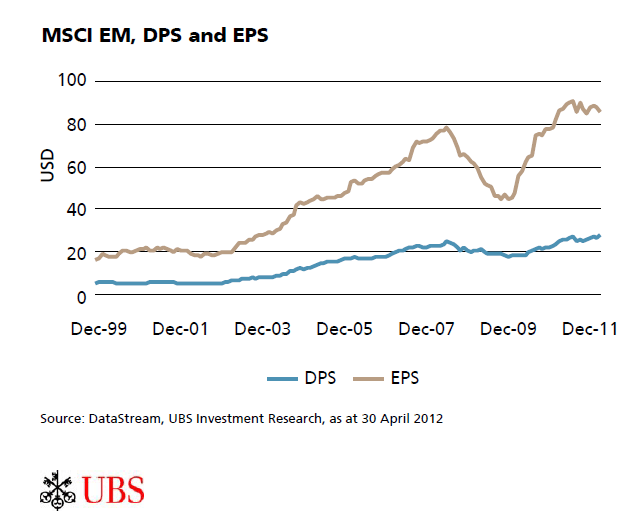 Some of the reasons to invest in emerging market dividend stocks include:
Companies in the MSCI Emerging Markets Index have increased dividend payments steadily for the last ten years.
Unlike earnings, dividend payments have been more steady.
Dividend payout ratios have been stable and stood mostly in the 30% to 40% range.
As many of these companies mature the potential to increase dividend payouts is high.
Emerging market companies have lower debt levels than developed market companies.
Emerging companies also have high cash levels on their balance sheets.
The number of emerging stocks in the MSCI World Index having high dividends yields has increased from 60 in 1995 to 302 in 2011.
Source: Harvesting dividends from growing regions, UBS
Ten Asian Emerging Stocks are listed below with their current dividend yields:
1.Company: Taiwan Semiconductor Manufacturing Co Ltd(TSM)
Current Dividend Yield: 3.15%
Sector: Semiconductors
Country: Taiwan
2.Company:PetroChina Co Ltd (PTR)
Current Dividend Yield: 3.68%
Sector: Oil & Gas Operations
Country: China
3.Company:Philippine Long Distance Telephone Co (PHI)
Current Dividend Yield: 4.14%
Sector:Communications Services
Country:Philippines
4.Company: Malayan Banking Bhd (MLYBY)
Current Dividend Yield:7.09%
Sector: Banking
Country: Malaysia
5.Company: Posco (PKX)
Current Dividend Yield: 3.45%
Sector: Iron & Steel
Country: Korea
6.Company:China Petroleum & Chemical Corp (SNP)
Current Dividend Yield: 4.40%
Sector: Oil & Gas Operations
Country: China
7.Company:Chunghwa Telecom Co Ltd (CHT)
Current Dividend Yield: 5.81%
Sector: Telecom
Country: Taiwan
8.Company: S-Oil Corp (SOOCY)
Current Dividend Yield:
Sector: Oil & Gas Operations
Country: South Korea
9.Company: PT Telekomunikasi Indonesia (TLK)
Current Dividend Yield: 3.37%
Sector: Telecom
Country: Indonesia
10.Company: SK Telecom Co Ltd (SKM)
Current Dividend Yield: 5.81%
Sector: Telecom
Country: South Korea
Note: Dividend yields noted are as of December 2, 2012
Disclosure: No Positions
Related:
JP Morgan makes case for emerging markets income (Trustnet, UK)