In this post let us take a look at how returns vary when an investor invests in a domestic telecom provider relative to investing in a foreign company.
The Dow Jones Industrial Average component AT&T (T) is one of the large telecommunication companies. Currently the company has a market capitalization of about $205.5 B and the dividend yield is 4.94%. Last year it has total revenues of about $127 billion. AT&T is one of the widely held companies by individuals and institutions.
Norway-based mobile telecom giant Telenor ASA (TELNY) operates 11 markets in the Nordic countries, Central and Eastern Europe and Asia. Telenor has also a major stake in  VimpelCom Ltd (VIP) of The Netherlands which has operations in 19 markets. The largest shareholder of the company at the end of last year was the Norwegian Ministry of Trade and Industry with a stake of about 54%. Currently Telenor trades on the OTC market under the ticker TELNY and has a market capitalization of about $20.0 B. The current dividend yield is 4.28%.
Due to the home country bias and other factors many investors wanting to investing in an utility with high dividend yields and stable growth simply invest in companies such as AT&T. If such investors expanded their horizon and looked abroad they can find better telecom companies that yield much higher returns.
5-year share price return of AT&T and Telenor:
Click to enlarge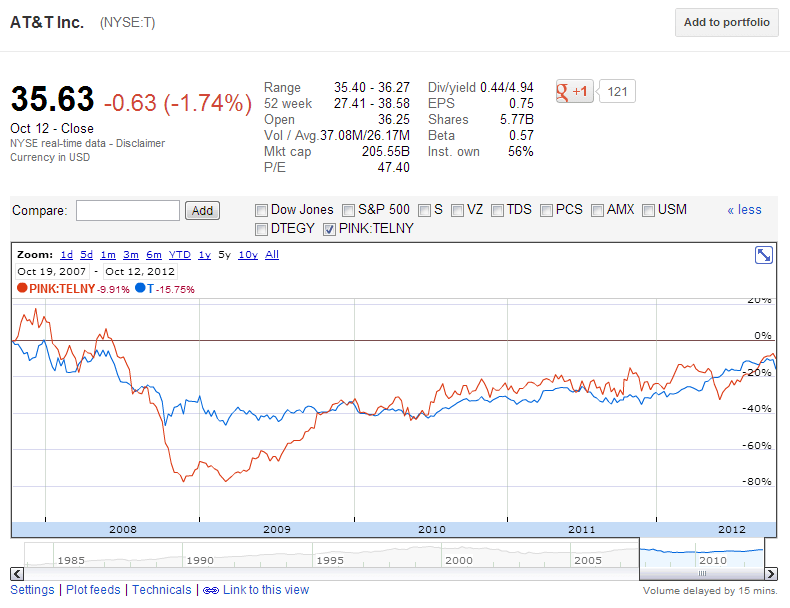 10-year share price return of AT&T and Telenor: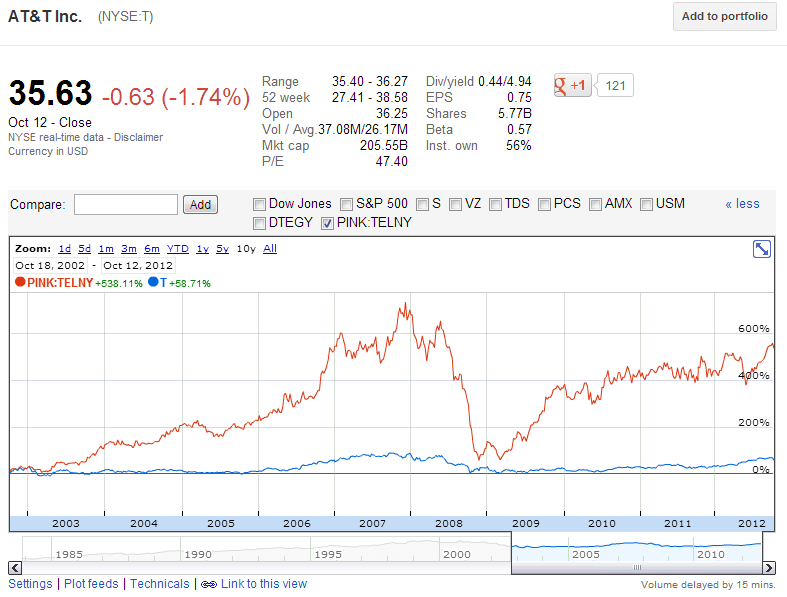 Source: Google Finance
In five years both the stocks were down and the difference in share price returns were not high. However Telenor's 10-year return is an excellent 538% while AT&T returned just 58%. The above charts show only share price returns and not total returns which include dividends. If total returns are considered the difference in returns will be even higher. A 10,000 Norwegian Krone investment in Telenor's domestic stock traded on the Norway market 10 years ago would have grown to NOK 56 596.39 with dividends reinvested.That amounts to a total return of 467.14% and an annualized total return of 18.93%. (Source: Telenor Investor Relations). The return shown in the 10-year chart above is different since the charts correspond to the ADR price trading on the US markets.
Norway has a 25% withholding tax rate on dividends earned by US residents.But if Telenor is held outside of a non-taxable account such as a Traditional or Roth IRA, investors can recover the taxes paid in the form a foreign tax credit and the total returns would not be impacted.
Note: Dividends noted are as of Oct 12, 2012
Disclosure: No Positions