Dividends account a significant portion of the total return of stocks especially over long periods. But how much do dividend yields, dividend growth, multiple expansion contribute to total returns? The following chart from SocGen provides the answer:
Click to enlarge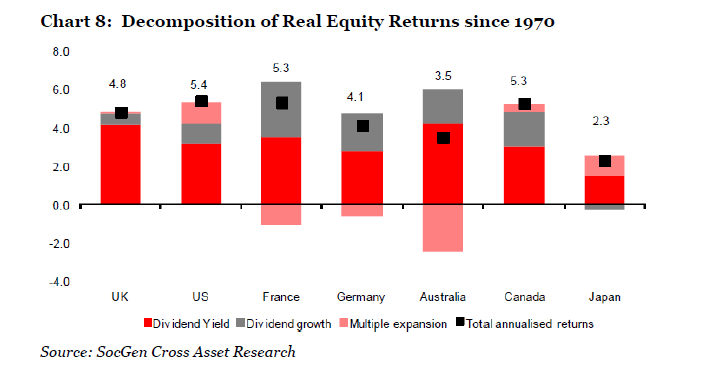 Via The Absolute Return Letter, Oct  2012, Absolute Return Partners LLP
The U.S. has the highest annualized total returns at 4.4% among the countries noted.While dividend yields account for about 3% of total returns in the U.S. the dividend yield is much lower in Japan. In both Japan and U.S. multiple expansion plays  a strong role compared to other countries.Australia and the UK have had high dividend yields since 1970.Unlike Japan, the US and UK , dividend growth is high in France, Germany, Australia and Canada.
Ten dividend stocks to consider from the countries listed above (excluding Japan) are listed below:
1.Company: Royal Bank of Canada (RY)
Sector: Banking
Current Dividend Yield: 4.18%
Country: Canada
2.Company:British American Tobacco PLC (BTI)
Sector: Consumer products
Current Dividend Yield: 3.97%
Country: UK
3.Company: Telstra Corp Ltd(TLSYY)
Sector: Telecom
Current Dividend Yield: 7.23%
Country: Australia
4.Company: RWE AG (RWEOY)
Sector: Electric Utilities
Current Dividend Yield: 5.67%
Country: Germany
5.Company: National Grid PLC (NGG)
Sector: Electric Utilities
Current Dividend Yield: 5.53%
Country: UK
6.Company: Exelon Corp (EXC)
Sector: Electric Utilities
Current Dividend Yield: 5.85%
Country: USA
7.Company: National Australia Bank Ltd (NABZY)
Sector: Banking
Current Dividend Yield: 6.77%
Country: Australia
8.Company: Enbridge Inc (ENB)
Sector:Natural Gas Utilities
Current Dividend Yield: 2.77%
Country: Canada
9.Company: Axa SA (AXAHY)
Sector: Life Insurance
Current Dividend Yield: 5.77%
Country: France
10.Company: Cullen/Frost Bankers Inc (CFR)
Sector: Banking
Current Dividend Yield: 3.31%
Country: USA
Note: Dividends noted are as of Oct 5, 2012
Disclosure: Long AXAHY,RY, RWEOY