The Bank Director magazine recently published the 2012 Bank Performance Scorecard  which ranks America's top listed banks.From the report:
As in previous years, the 2012 Bank Performance Scorecard used five key metrics that measure profitability (core return on average assets and core return on average equity); capital strength (ratio of tangible common equity to tangible assets); and asset quality (ratio of nonperforming assets to loans and real estate owned, and the ratio of net charge offs to  average loans). For scoring purposes, the ROAA, ROAE and TCE scores were given a full weighting, and the two asset quality metrics were given a half-weighting. The five category scores were then added across and the sum equaled each bank's final score.

Because the Scorecard ranks banks based on the combination of profitability, capitalization and asset quality, institutions that do well often have good marks on all five metrics rather than place first in any one category. The relationship between return on average equity (ROAE) and tangible capital is particularly telling. A bank that has a high ROAE in part because it has less capital than other institutions in its size category might have a lower final score than those banks that have somewhat lower ROAEs but higher tangible capital ratios. The key to doing well on the Scorecard is to be highly profitable and well capitalized, instead of being more highly leveraged.
Unlike the previous years, this year the magazine grouped the ranking in four different asset categories:
$50 Billion and Above
$5 billion to $50 Billion
$1 Billion to $5 Billion and
Below $1 Billion
The table below lists the top banks in the asset base of $50 billion and above category:
[TABLE=1121]
Source: Bank Director
Some observations:
VA-based Capital One was the top bank this year with assets of over $206 billion.
The report notes that Columbus,OH-based Huntington Bancshares rebounded strongly in 2011 after stumbling during the financial crisis.
The four super-banks (Citigroup, Wells Fargo, Bank of America and JP Morgan Chase) are also present among these 19 banks.
 The pdf version of the report is listed below:
Click to enlarge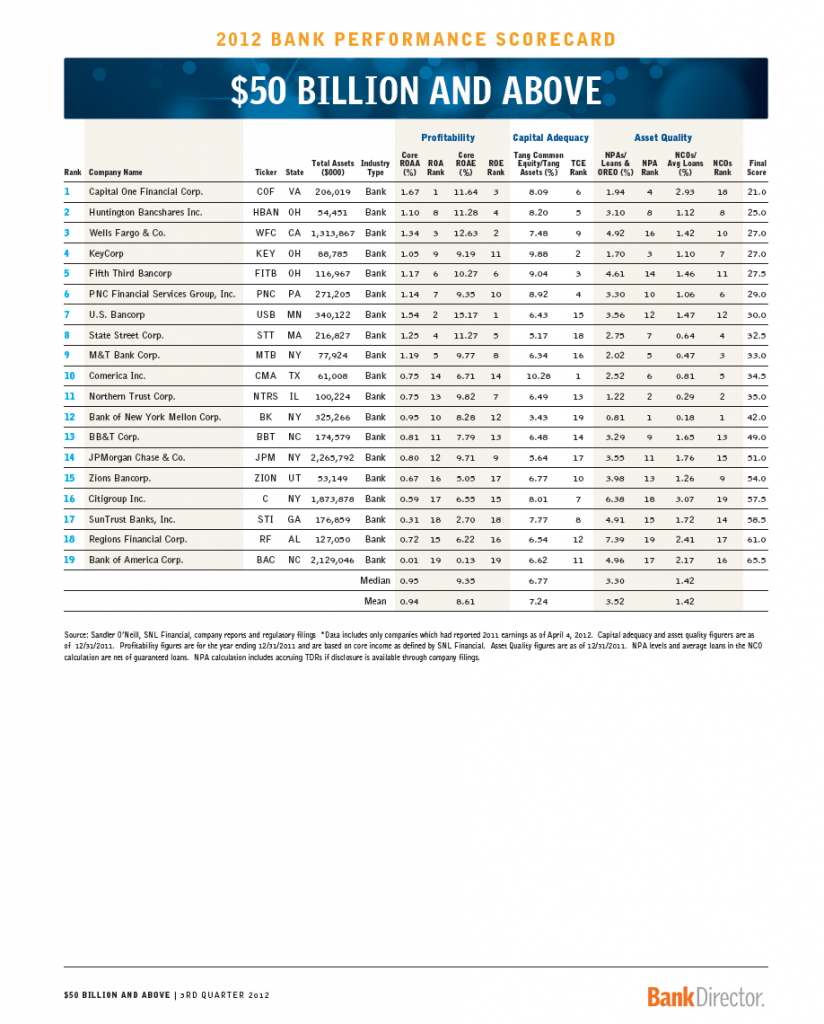 Disclosure: Long PNC, USB, BBT, FITB