The dividend yield on the S&P 500 is around a measly 2.0%. For investors looking to earn higher income from investing in equities,  foreign stocks provide an attractive investment opportunities. Generally foreign stocks have had higher dividend yields when compared to U.S. due to many reasons. The following chart shows that U.S. equities had a dividend yield of just 2% at the end of 2011 while global income stocks had yields of over 5%:
Click to enlarge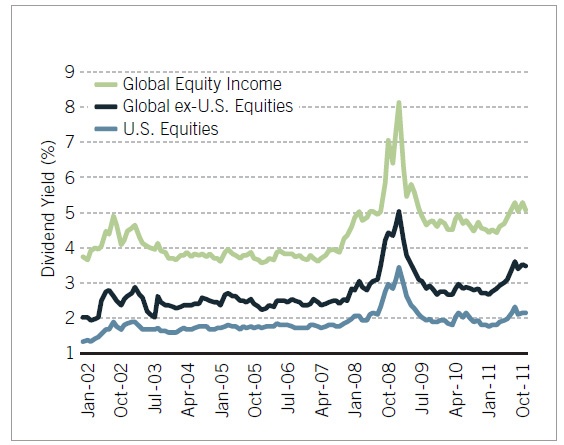 Source: A global search for dividends, Fidelity Investments
From the Fidelity Viewpoints interview of Ramona Persaud, manager of the new Fidelity Global Equity Income Fund :
Q: Why have non-U.S. stocks historically tended to deliver higher dividend yields?

Persaud: There seem to be specific factors on a country-by-country basis that help explain the prevalence of higher yield outside the United States. For example, shareholders in parts of Asia where there is high family ownership often demand cash returns from their equity investments. In the U.K. and Chile, pension funds have had large ownership stakes and have advocated for high payout rates. In Brazil, there is a minimum 25% payout of earnings set by law. In Australia and New Zealand, dividends are often not subject to double taxation, as they are here in the U.S., so that incentivizes high payout ratios. Other examples are found in countries with a history of hyperinflation—such as Indonesia, Argentina, and Germany—where above-average dividend yields suggest that investors demanded high payouts to help offset inflation and earn real returns. So from a global perspective, there are great yield opportunities across the world, and this includes the United States, as I believe income is at a cyclical low here, with conditions ripe for a rebound.
Ten foreign stocks currently paying dividends of over 5% are listed below for further research:
1.Company:CorpBanca SA (BCA)
Sector: Banking
Current Dividend Yield:7.71%
Country: Chile
2.Company:National Grid PLC (NGG)
Sector: Electric Utilties
Current Dividend Yield: 5.61%
Country: UK
3.Company: Chunghwa Telecom Co Ltd(CHT)
Sector: Telecom
Current Dividend Yield: 6.16%
Country: Taiwan
4.Company:City Telecom (CTEL)
Sector: Telecom
Current Dividend Yield: 7.05%
Country: Hong Kong
5.Company:Philippine Long Distance Telephone Co (PHI)
Sector: Telecom
Current Dividend Yield: 5.85%
Country:Philippines
6.Company: Vodafone Group PLC (VOD)
Sector: Telecom
Current Dividend Yield: 5.35%
Country: UK
7.Company:Companhia Siderurgica Nacional (SID)
Sector:Basic Materials
Current Dividend Yield: 6.26%
Country: Brazil
8.Company:Administradora de Fondos de Pensiones Provida SA (PVD)
Sector:Investment Services
Current Dividend Yield: 8.38%
Country: Chile
9.Company:Alumina Ltd (AWC)
Sector:Metal Mining
Current Dividend Yield: 6.42%
Country: Australia
10.Company:Australia and New Zealand Banking Group Ltd (ANZBY)
Sector:Banking
Current Dividend Yield: 6.60%
Country: Australia
Note: Dividend yields noted are as of May 16, 2012
Disclosure: Long BCA