The emerging markets of Brazil and India are vastly different in many ways. Brazil is not only blessed with many natural resources that the world wants but is also increasingly becoming as an exporter of manufactured goods. But Brazil has a small population compared to India.
India on the other hand has limited natural resources but traditionally has had a large manufacturing sector. With a huge population India offers bigger market for growth.
For foreign investors, both the countries offer a wide variety of choices for investment from banking to consumer goods to real estate sectors. However the Brazil is ahead of India in terms of equity market performance based on the MSCI country indices.
Multi-year performance of MSCI India and Brazil indices:
Click to enlarge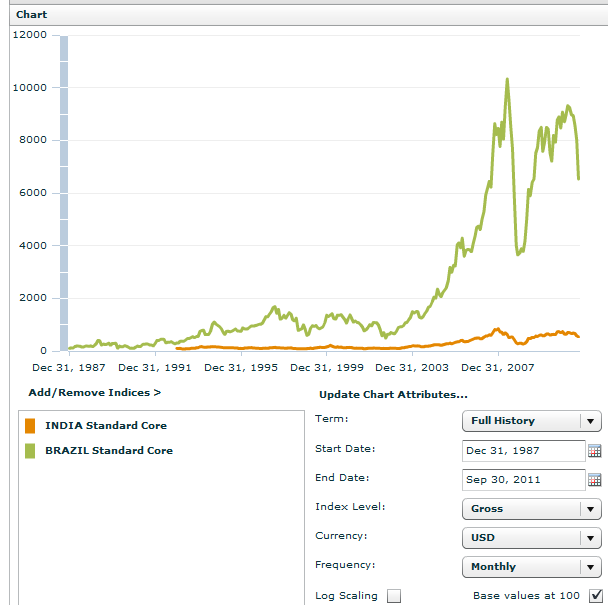 5-year performance of MSCI India and Brazil indices:
Source: MSCI
The long-term performance of Brazil and India are incomparable as shown in the first chart. One reason for this huge gap between them could be that India adopted free-market economic policies only in the 1990s and for many years even after that discouraged foreign investment in a number of key sectors of the economy.
The 5-year chart shows that the equity market performance of Brazil and India tracked each other though Indian stocks always lagged. Brazilian stocks fell heavily at the height of the credit crisis in 2009, but have recovered better than Indian stocks.
The equity market performance of the next five years will be closely watched by investors as both countries are projected to have strong economic growth and continue to attract high foreign direct investment. Since each country has its own unique risks and certain sectors offer higher potential for growth than others, investors must evaluate and invest in individual companies (or) sectors rather than simply going with country-specific funds.
Related ETFs:
EGShares India Infrastructure ETF (INXX)
EGShares Brazil Infrastructure ETF (BRXX)
iShares MSCI Brazil Index (EWZ)
Market Vectors India Small-Cap Index ETF (SCIF)
WisdomTree India Earnings (EPI)
PowerShares India (PIN)
iShares S&P India Nifty 50 (INDY)
Disclosure: No positions