Dividends account for a large portion of total returns especially over the term. Real returns – that is excluding inflation – include dividend yields, dividend growth and multiple expansion (P/E). The following chart shows the split of real returns of select developed countries: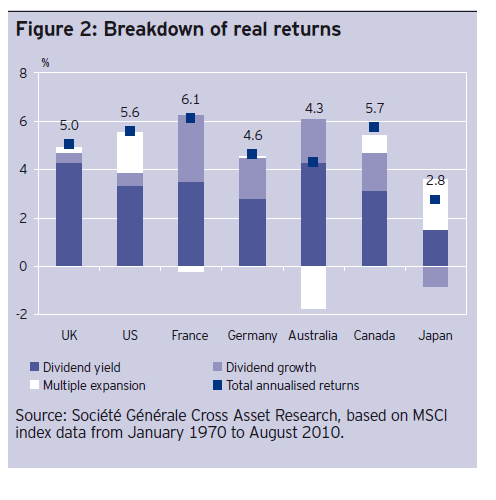 Source: Risk and Reward, Research and Investment Strategies,1st Qtr 2011, Invesco
The importance of dividend yields and dividend growth to the total returns are clearly shown in the above chart. Over the past 40 years thru August 2010, these two factors have significantly driven real returns.
Instead of dividend growth, multiple expansion contributed heavily to the real returns of Japanese and U.S. equities.  Compared to Australia, Canada, France and Germany, dividend growth is much less in the US. This is not surprising since US firms are traditionally more inclined to reinvesting or accumulating earnings than increasing dividend payouts.
Related ETF:
SPDR S&P 500 ETF (SPY)
Disclosure: No Positions