Many U.S. companies have reinstated (or) increased dividend payments since the credit crisis of 2008-09. The amount of payouts and the number of companies with positive dividend actions have increased in recent months. According to Standard & Poor's, in the first half of 2011, net cash payouts among S&P 500 companies rose by a record $25.5 billion. In addition, the number of companies that raised or initiated dividends during this time rose to 204 from 140 in the prior-year period.
As dividend raises indicate a company management's confidence in its future stream of cash flows, investors have to pay close attention to this factor when evaluating potential investment opportunities. A report by Cohen & Steers notes that "Dividends have increased at a record pace so far in 2011, and are poised to continue growing."
While financials have still  a long way to go, most other sectors within the S&P 500 have increased their dividends this year.
According to the report, corporate dividend payouts are poised to rise substantially in the following years due to the following three factors:
Strong Earnings
Strong Balance Sheets
Historically Low Payout ratio
Companies in the S&P 500 have amassed a near-record $3.6 trillion in cash and marketable securities.
Although aggregate payouts for companies in the S&P 500 are nearing historical highs, dividends have not kept pace with earnings growth, sending the average payout ratio plummeting to an all-time low of 28%, as shown in Exhibit 7.
Click to enlarge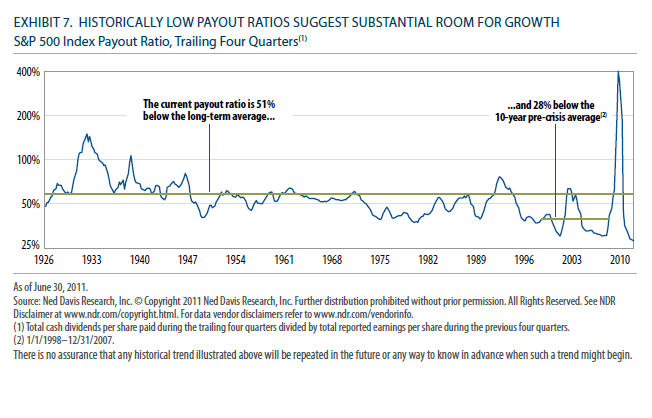 Related ETF:
SPDR S&P 500 ETF (SPY)
Disclosure: No Positions