One of the key figures to review in earnings reported by banks is the fee income. Unlike other types of incomes, income from various types of fees are somewhat predictable and stable. Many U.S. banks in recent decades have ventured into the insurance business and their insurance subsidiaries generate sizable revenues. In the first quarter of this year, banks earned the highest quarterly broker fee income of $3.98 billion according to  the Michael White-Prudential Bank Fee Income Report.
The table below shows the top 12 banks in insurance brokerage fee income thru the first quarter of 2011:
Click to enlarge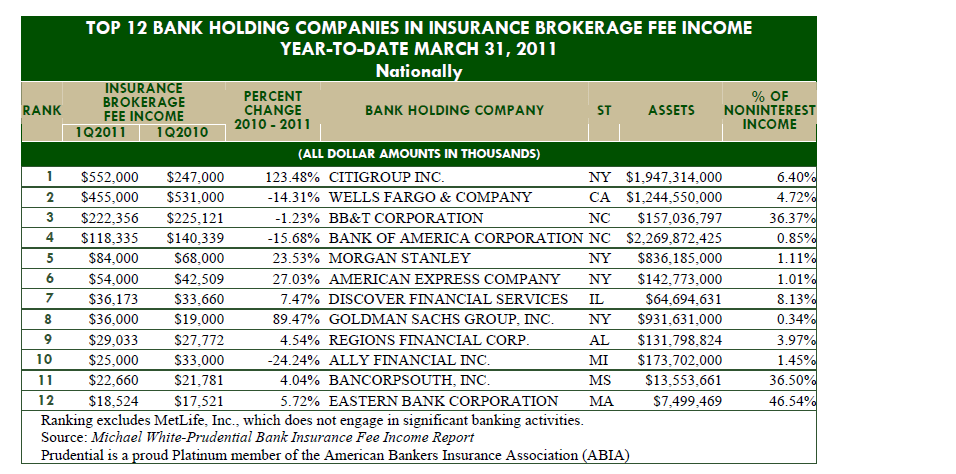 Source: Michael White Associates
Excluding life insurer MetLife, Citigroup Inc. (C) topped the ranking with insurance brokerage earnings of $552.0 million followed by Wells Fargo & Company (WFC) and BB&T Corporation (BBT).
Other winners:
Assets between $1 billion and $10 billion
Eastern Bank Corporation (MA), Stifel Financial Corp. (M0), Old National Bancorp (IN), Johnson Financial Group, Inc. (WI), and Trustmark Corporation (MS).
Assets between $500 million and $1 billion
Two Rivers Financial Group (IA), 473 Broadway Holding Corporation (NY), Evans Bancorp (NY), Texas Independent Bancshares (TX), and Northeast Bancorp (ME).
Assets under $500 million
Soy Capital Bank and Trust Company (IL), Industry State Bank (TX), Hoosac Bank (MA), First State Bank (IA), and Stoneham Savings Bank (MA).
Disclosure: Long BBT