According to the OECD recently released its OECD Health Data 2011 report, healthcare spending continues to rise faster than economic growth in most OECD countries. Healthcare spending reached 9.5% of GDP on average in 2009, up from 8.8% in 2008.
As expected the U.S. continues to spend the most on healthcare. The following chart shows the wide margin between the U.S. and other developed countries: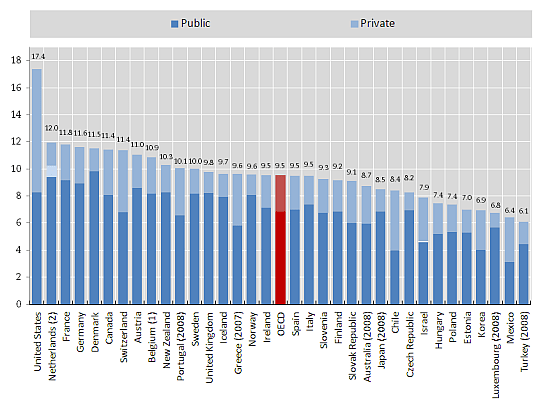 Health expenditure per capita in US$ Purchasing Power Parity (PPPs) 2009, OECD countries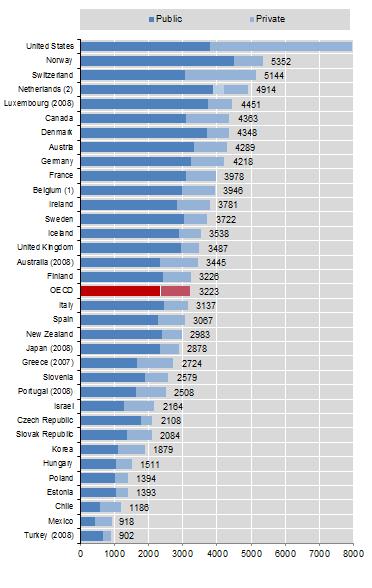 Source: OECD
Due to the lack of a decent national healthcare system for all citizens the U.S. is the only developed country where private health spending accounts is in addition to and higher than public spending as clearly shown in the chart above.
From the report:
In 2009, there were large variations in how much OECD countries spent on health and the health spending share of GDP. The United States continued to outspend all other OECD countries by a wide margin, with spending on health per capita of $7960. This was two-and-a-half times more than the OECD average of $3223.

As a share of GDP, the United States spent 17.4% on health in 2009, 5 percentage points more than in the next two countries, the Netherlands and France (which allocated 12.0% and 11.8% of their GDP on health). Norway and Switzerland were the next biggest spenders on health per capita, with spending of more than $5000 per capita in 2009.