Biotech stocks have declined heavily in the past few weeks. Up until recently stocks in this sector reached sky-high valuations as investors were highly attracted by the ever-rising stock prices. But now investors are getting second-thoughts and are selling stocks across the sector as fear of further declines takes hold. The iShares Nasdaq Biotechnology ETF (IBB) which can be a proxy for the sector turned negative today. As early as July this year the fund was up by over 31%. In a short period the ETF has given up all the growth year-to-date.
From an article in Bloomberg today:
For the last five years, biotechnology and pharmaceutical stocks have surged on an assumption about the companies that invent and sell drugs for American patients: Invent amazing treatments that save lives and cure the sick, and you can charge pretty much what you want.

That thesis is under more pressure than any time in recent history, in part because of increasing scrutiny of how some drugmakers price their medicine. In the last month, media reports about price increases for therapies that have been on the market for years have caused Democratic presidential candidates to call for regulating the sector's business practices, including what companies spend on research and how much they can charge.

Much of the criticism has focused on a few companies — like Valeant Pharmaceuticals International Inc. and Turing Pharmaceuticals AG — that have bought old drugs and raised prices to increase profits. But the pressure on stocks has spread far wider. The Nasdaq Biotechnology Index — a 143-company barometer of the industry — fell 3.8 percent Tuesday, and has been down 11 of the last 15 trading days, wiping out $150 billion in value.

"I definitely think the concern over pricing is the main cause here," said Jeff Jonas, a portfolio manager at Gabelli Funds who helps manage about $300 million. "I don't think any of this is going to be able to pass politically, but I don't think the market's focused on the next six or 18 months. I think they're focused on the next day or what the next negative article is going to be."
Biotech valuations have been reaching the stratosphere for some time now. Taking advantage of investors' mania for these companies, many firms including ones with no approved drugs have gone public in recent years. In fact a few European biotech firms have also listed their equities on the US markets. The Bloomberg piece noted the following example on crazy biotech valuations:
Yet even companies far removed from the buy-and-raise business model have been hurt. Bluebird Bio Inc. is developing treatments that reprogram the immune system to attack cancers, one of the industry's most exciting areas. After a 2013 initial public offering, it rose 10-fold to a market valuation of more than $6 billion, despite having no products on the market. Since May, it has lost half its value. A competitor, Juno Therapeutics Inc., is down 31 percent over a similar period.
Source: Cures-for-Dollars Model Comes Undone as Biotech Sinks, Oct 7, 2015, Bloomberg
Investing in the biotech sector is not the faint-hearted. Companies with promose of potential breakthoughs may fail. However even before they get any FDA approvals, investors push their stock prices very high as future earning potential seems excellent. I wrote an article about risks with biotech investing back in April this year.
Here are a few points to remember about biotech stocks. Investors should consider these points before jumping into any of the biotech stocks:
1. Probability of failure in drug discovery is very high. Here is an excerpt on this important factor:
According to Harvard's Gary Pisano, even when a drug finally gets to Phase 3 trials, the probability of failure can still be as high as 50%. Pisano also found that the R&D process at biotech firms has been no better than at big pharma companies; a study in the Journal of Health Economics actually found that larger firms had better performance in drug discovery.
2. Even ground-breaking discoveries may not translate into profits for equity investors. The following chart shows what happened to the stock of the firm that mapped the Human Genome in the late 90s.
3. Since the previous biotech bust in early 2000, over 100  Russell 3000 biotech/life sciences companies have failed thru 2014.
4. Investing in most non-established biotech companies are simply bets that they will succeed with some drug discovery, receive FDA approvals and then sell the products in the market at high prices. However that is not always the case. Even with FDA approval, if the demand is not there for their drug then the stock will collapse as shown in the example below: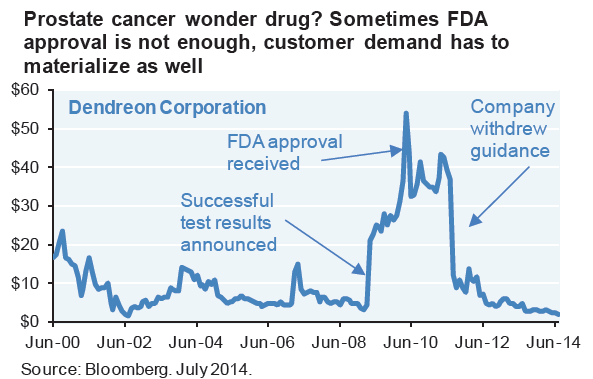 5. Denial of FDA approval for a drug is the death knell for a biotech stock.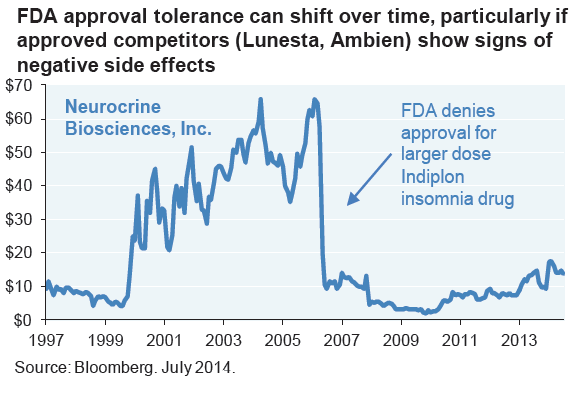 6. Most biotech companies suffer permanent damage (i.e. losing 70% or more of stock price from peak) in an anlysis of Russell 3000 companies from 1980 thru 2014.
7. Biotech firms can experience periods of depressed stock prices as trials fail or have to be rerun, with some surging when/if success eventually occurs, or when they are bought by larger companies. For example, once a biotech firm fails in a drug discovery for cancer, the stock price is highly unliekly to recover from the sharp fall.
8.Most biotechs do not have profits as they are still years away from being able to market their drug. So P/E ratios can be meaningless for such firms. A recent note in The Wall Street Journal indicated how the P/E ratio of around 27 for the iShares Nasdaq Biotechnology ETF displayed by iShares on the website is incorrect since it eccludes firms making a loss, When those firms are included the ratio shoots up to over three digits.
Over 150 Biotech firms trade on the NASDAQ market. The complete list can be found here.
Disclosure: No Positions