The graphic below shows the top companies in the U.S. tire market:
Click to enlarge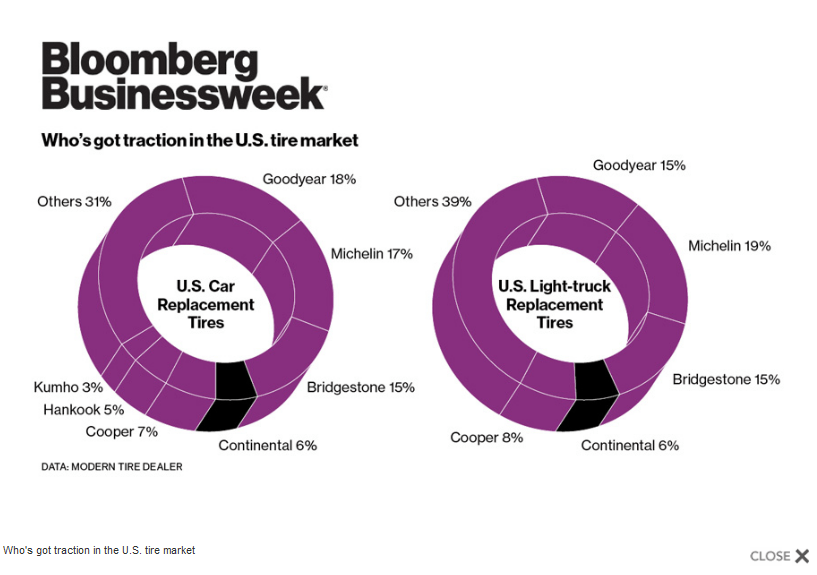 Source: Continental Sells to Tire Salesmen in the U.S., Bloomberg BusinessWeek
Goodyear, Michelin and Bridgestone sell about half of the replacement tires for U.S. passenger cars. Akron, Ohio-based The Goodyear Tire & Rubber Co (GT) is the largest U.S. manufacturer of tires and had sales of about $20.0 billion last year. Japan-based Bridgestone trades as an unsponsored ADR on the OTC market under the ticker BRDCY. The stock is up about 23% YTD.
Cie Generale Des Ets Michelin SCA (MGDDY) is a tire maker based in France. Michelin ADR is also up about 24% YTD. Germany-based Continental AG (CTTAY) is one of the largest tire makers in the world. Continental generates 13% of its revenue from the U.S.
Although much smaller than Goodyear, Cooper Tire & Rubber Company(CTB) had sales of $3.5 billion last year and has a higher profit margin. Since its humble beginnings in 1960, South Korea-based Kumho Tires has grown tremendously over the years to become the 9th largest tire manufacturer in the world. Hankook is also a South Korean firm and is the seventh largest tire manufacturer in the world.
Disclosure: No positions