The huge earthquake and tsunami that devastated Japan also dealt a huge blow to the nuclear power industry when the world learned of radiation leaks from Fukushima Daiichi nuclear plant owned by Tokyo Electric Power Co. Germany ordered safety inspections of its aging plants and temporarily suspended operations of some plants. Despite fears of a large-scale radiation incident such as the one that occurred in Chernobyl, Ukraine in 1986 so far Japanese engineers have mostly succeeded in containing the radiation leaks. Tokyo Electric Power Co said today that it plans to bring the crisis under control by the end of this year.
Despite the current events, power generation from nuclear energy is set to rise in many countries. The following chart shows the number of nuclear plants under construction by country :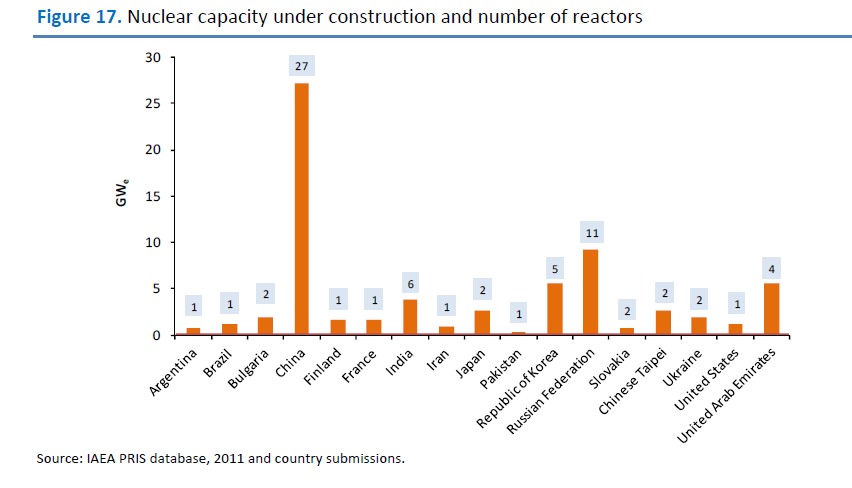 A total of 15 countries are currently constructing new nuclear capacity. Given the lengthy period for construction it can be assumed that capacity under construction provides a good overview of the growth of this industry in the next few years.Most of these plants will come online by 2015. Of the 66 units under construction in 2010, 27 are in China. China had only 3 plants under construction at the end of 2005. Hence the current upturn in the growth of this industry is mainly in part due to China's rising  demand for nuclear power.
The top five countries investing in nuclear fission R&D are USA, Canada, Japan, France and Brazil.
Source: Clean Energy Progress Report, International Energy agency
The U.S. is the world' largest producer of nuclear power for electricity. In 2009, the country's 104 nuclear reactors produced 799 billion kWh representing over 20% of total electrical output. It is interesting to note that no new nuclear power plant construction have been started in the U.S. since 1977. (Source: World Nuclear Association)
There are many ways to invest in and profit from the growth of this sector. Some of the investment options include nuclear power plant builders, utilities and uranium miners.
Nuclear power plant builders: The French company Areva is the world's largest builder of nuclear plants. Areva projected that about 150-300 plants will be built globally by the year 2030 with at least 50 of them built in china and India. Other companies in this field include Toshiba through its Westinghouse unit, General Electric (GE), Kajima, Mitsubishi Heavy Industries, etc.
Electric Utilities: Electric utilities own and operate nuelar plants.Some of the electric utilities that operate nuclear plants include E.ON(EONGY) anbd RWE AG (RWEOY) of Germany, Spain's Iberdrola (IBDRY),  France's Electricite de France(ECIFY), Exelon (EXC), Duke Energy (DUK), Progress Energy (PGN), NextEra Energy (NEE) and many other utilities in the U.S.
Uranium Miners: Uranium mining companies provide Uranium, the raw material for nuclear power plants. Some of the uranium miners include Uranium Energy Corp. (UEC), Uranium Resources, Inc. (URRE), Aurora Energy Resources, Denison Mines Corp (DNN), Cameco (CCJ), Paladin Resource, etc.
ETFs: Another simple way to invest in this sector is via the Market Vectors Uranium + Nuclear Energy ETF (NLR). This ETF tracks the DAX global nuclear energy index which contains 40 nuclear energy-related companies listed on global exchanges.The iShares S&P Global Nuclear Energy index ETF (NUCL) also offers a simple and easy way to gain exposure to this sector.
Disclosure: Long RWEOY, NEE, DUK, EONGY