According to the Chinese Zodiac,  2011 is the Year of the Golden Rabbit, which began on February 3rd.  Last month published the 17th annual CLSA Feng Shui Index report with a tongue-in-cheek look at what 2011 holds for equities, commodities, property, celebrities, and the zodiac signs in the year ahead.
From the report:
The 2010 Year of the Golden Tiger CLSA FSI predicted the performance of the Hang Seng Index ("HSI") so precisely that even we were a little surprised. Although past performance is no guarantee of future returns, we are confident that the HSI will provide great opportunities for investors to buy and sell their way to profit over the months ahead.

For the market, February 2011 should see a slow start to the year, with the Rabbit reluctant to emerge from its hole for fear the tiger still lingers. March calls for patience as opposing forces test investors' metal. As the Rabbit finds his feet, wealth will come from the West in April and prove a great month for those with stamina.

May begins with one of the year's four most auspicious dates (14 May), but we expect a tumble in June, providing a great buying opportunity for the savvy. Investors may want to rethink their summer-vacation plans: we see markets rising sharply over July and August. Money will flow.

With Fall comes a fall: the CLSA FSI predicts a sharp decline in September – but not for long. October marks a sustained market rally with money flowing abundantly through to the end of November. However, investors should remain focused as markets decline during December. Come January 2012, the Bunny bounces back to close the year on a high.

Sector-focused investors should pay attention to the five elements: Metal is hot, water is bubbly, fire is on fire, wood would if it could and earth is soiled. So where to invest? It will be a great year for Financials, Gaming, Gold, Resources and Transport. While gold didn't break US$2,000 per ounce as we predicted in 2010, we are confident the Rabbit will provide the carrot this year. It will be a good year for Oil and Gas, Technology, Telecoms, Internet and Utilities, but an unexciting time for the earth-related Property sector.
So investors putting faith in this theory may want to avoid the property sector and invest in gold, financials, resources,etc. Financials are already on a solid footing this year with many bank stocks performing well and dividend increases.
Happy Days are Hare Again: As the index rises rabbitly hopportunities abound: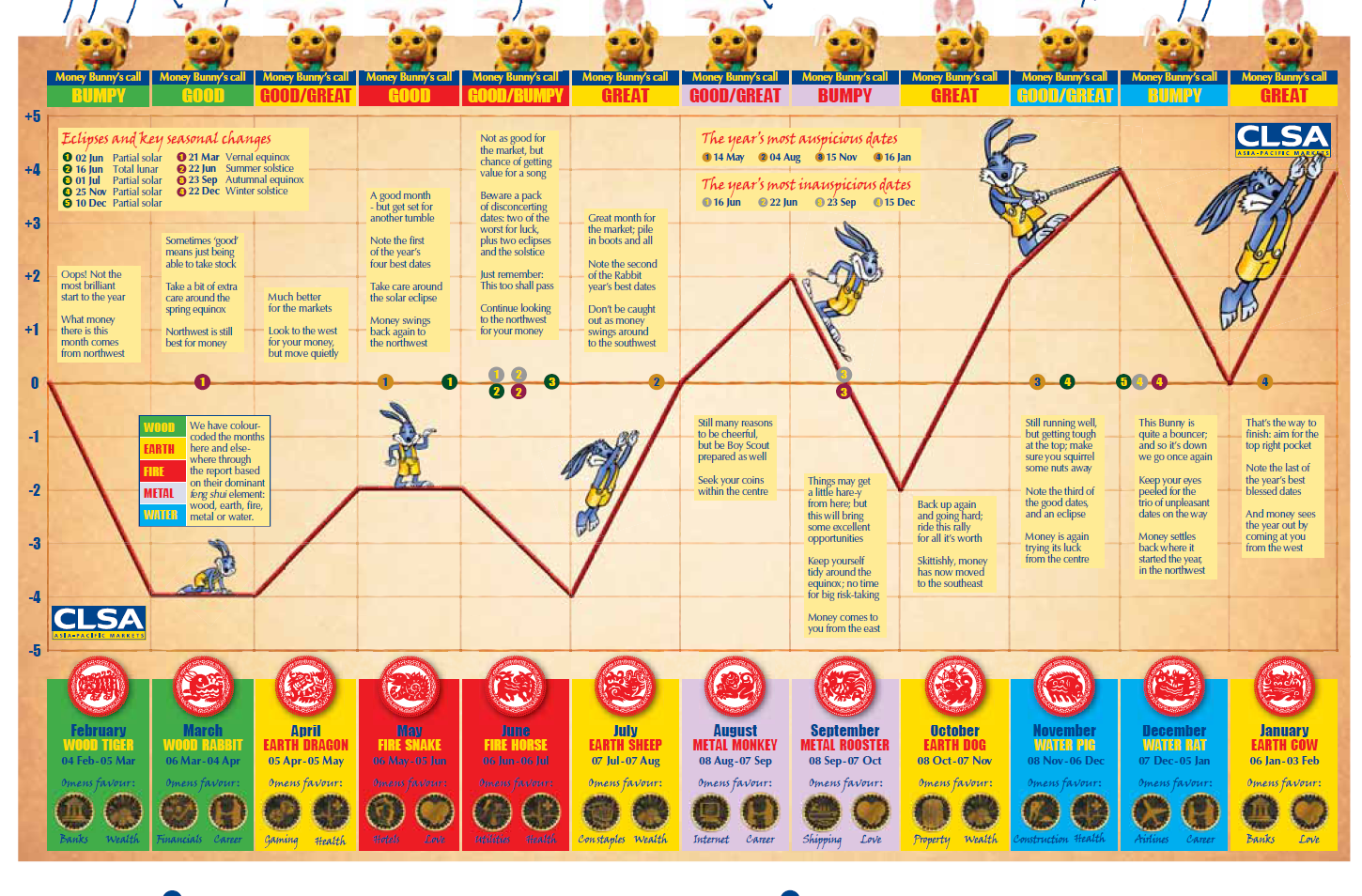 Click on image to enlarge
Some related ETFs:
SPDR Gold Trust ETF (GLD)
United States Natural Gas Fund (UNG)
United States Oil Fund (USO)
KBW Regional Banking ETF (KRE)
PowerShares Dynamic Banking Portfolio (PJB)
iShares Dow Jones U.S. Broker-Dealers Index Fund (IAI)