In an article earlier this year, I wrote that Canadian banks' equity is the third worst in the world based on assets to equity ratio quoting a McKinsey Global Institute study.
A new research report by Deutsche Bank Research shows that Canadian banks are in worse shape compared to other developed markets' banks based on the Borrower Concentration ratio.This ratio measures the diversification of banks' foreign exposure across other countries. Put another way, this measure identifies those countries that have concentrated their lending on specific regions or countries. Usually countries tend to have high exposures to neighboring countries.The Borrower Concentration ratio is calculated using the Herfindahl Index, which measures the concentration of a country's top ten borrowers. This index is a valuable tool to analyze banks' vulnerability for first-round contagion effects. For a banking sector that is highly exposed to a single country or very few foreign countries, contagion risk may be stronger than for a country whose banking sector is well diversified in its overseas lending exposure.
The graphic below shows the Borrower Concentration Ratios of developed countries: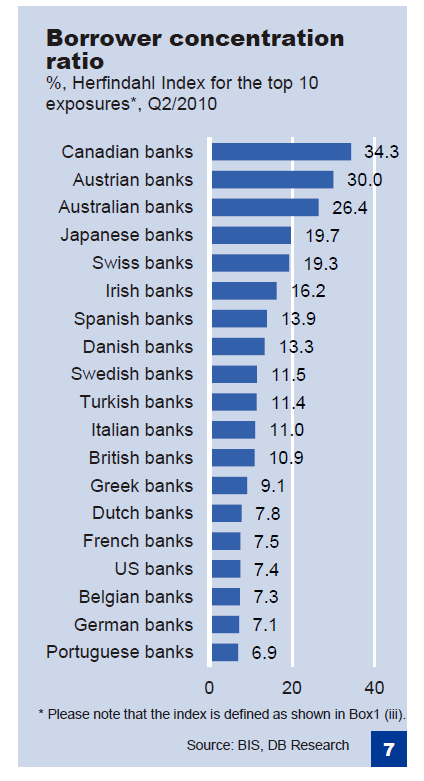 Source: Monitoring cross-border exposure, Deutsche Bank Research
Canada tops the list due its heavy exposure to the U.S. Compared to Canada, U.S. is in much better position since U.S. banks have well diversified foreign lending exposures. Unlike Canadian banks, U.S. banks have not concentrated solely on a specific country or a region. Austria and Australia take the second and third spots since Austria lends heavily to Germany and Czech Republic while Australia lends to New Zealand. Canadian banks have large exposures to US due to many factors such as limited growth opportunities in the domestic market, strict regulations preventing domestic mergers, trade between the countries, geographical proximity, cultural similarities, etc.
Among the big five Canadian banks, Toronto-Dominion Bank (TD) has the largest presence in the US market. With the acquisition of Cherry Hill (N.J.)-based Commerce Bancorp in March 2008, TD now has more branches in the US than in Canada. The bank has about 1,300 branches in 16 states from Maine to Florida where 24,000 employees provide excellent customer service. In the most recent quarter, profits from US operations amounted to about a quarter of the bank's profits of C$1.18 billion.
Domestic competitors Royal Bank of Canada (RY) and Bank of Montreal (BMO)have not had success so far in their US ventures like TD. Royal Bank has not earned a profit in its international division which includes operations in North Carolina and Alabama. Bank of Montreal owns the Chicago-based Harris bank. BMO's profit from its U.S. unit accounted for just 6% of net income in the last quarter.
Disclosure: Long TD, BMO & RY