During the 1990s investing in tech stocks was fashionable and extremely profitable as the dot-com boom was in full swing. Though most tech stocks did not pay any dividends, investors bet on them for their growth prospects.That strategy worked out well until the party ended.
The following graphic shows how six tech stocks produced phenomenal returns during each company's exponential growth periods:
Click to enlarge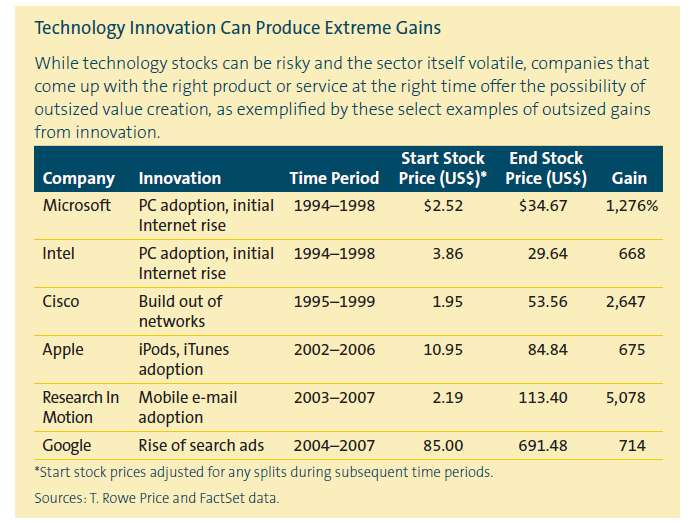 Source: T.Rowe Price
The chart below shows the performance of the same tech stocks from 2000 when the dot-com bubble burst: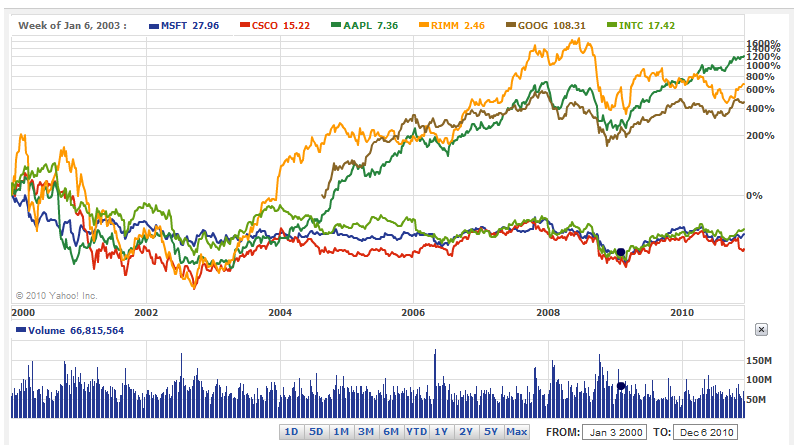 Note: Google went public in August 2004
Among the six stocks shown Apple is the best performer. However Apple(AAPL) is an exceptionally unique firm noted for its world-class innovation and marketing capabilities. The T.Rowe Price report noted the following observation on Apple:
Despite its stock gains the last five years, Apple's decades-long record of inventing novel consumer products didn't always pay off. As recently as 2004, for example, its stock price languished below its price in 2000.
Canada-based Research in Motion (RIMM) has had its strong growth period in the past and is now facing tough competition from other players in the market. Internet giant Google (GOOG) continues to be the undisputed king of the search engine world.
Shares of former tech darlings Intel (INTC), Cisco Systems (CSCO) and Microsoft (MSFT) have gone nowhere since 2000. Money invested in these stocks have been dead money for many years now and may probably remain so for the foreseeable future. Since their golden years, these firms have not yet invented a ground-breaking product that consumers want.Hence they have become more of slumbering giants in the technology industry primarily existing on their past successes.
With about $40.0 billion Cisco Systems holds the largest amount of cash among tech companies. In September the company announced that it will start paying a dividend yielding between 1% and 2% in the current fiscal year which ends in July 2011. Microsoft (MSFT) and Intel(INTC) hold about $37.0 billion and  $18.0 billion in cash respectively. It must be noted that Microsoft and Intel already pay a small dividend to their shareholders.
Disclosure: No positions