The EU and IMF are expected to approve a bailout package worth billions of Euros to Ireland next week. The Irish banking system is especially in need of capital injections despite billions already pumped into them by the Irish government. Similar to most U.S. banks, Irish banks also recklessly lent funds heavily to the real estate industry which has since collapsed.
The graphic below from an article in The Wall Street Journal shows foreign banks' exposure to Ireland: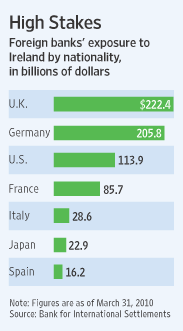 Among British banks, Royal bank of Scotland(RBS) has the largest exposure to Ireland at about £54 billion followed by Llyod's Bank(LYG) with £27 billion.
Since European bank's have large exposures to Ireland, in some ways the Irish bailout can be considered as the bailout of the major European banks according to a story in FT Alphaville. The following graphic shows the list of bank exposure to eurozone peripherals which include Portugal, Ireland and Greece.
Click to enlarge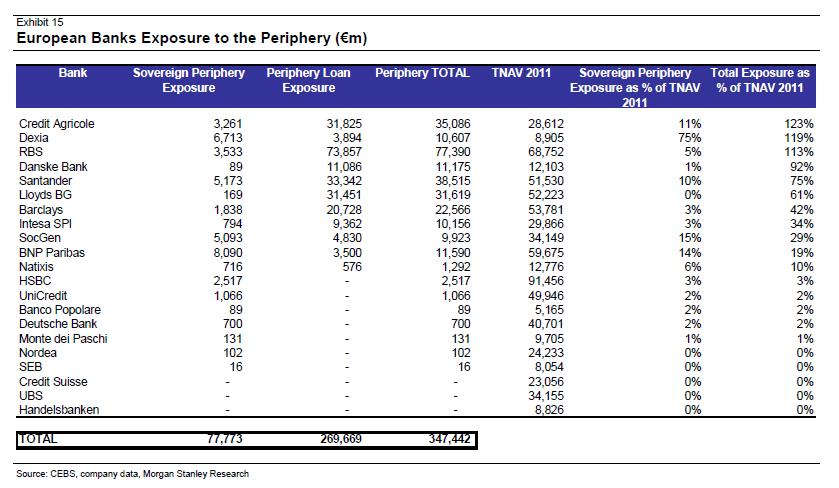 The three European banks with the largest exposure to the peripherals are RBS, Spain's Santander(STD) and France's Credit Agricole.
On a related note the share prices of Bank of Ireland (IRE) and Allied Irish Banks(AIB) closed at $2.67Â  and $1.23 respectively today. The Irish government nationalized failed lender Anglo Irish Bank in January 2009. Among the few Irish companies trading in the U.S. markets, Dublin-based low-cost airline Ryanair(RYAAY) is up about 14% YTD.