The OECD released its latest report on the Economic Outlook for OECD countries yesterday.
From the report:
"Economic activity in OECD countries will gradually pick up steam over the coming two years, but the recovery will be uneven and unemployment will remain persistently high, according to the OECD's latest Economic Outlook.
Gross domestic product (GDP) across OECD countries is projected to rise by 2.3% in 2011 and 2.8% in 2012. In the US, activity is projected to rise by 2.2% in 2011 and then by 3.1% in 2012. Euro area growth is forecast at 1.7% in 2011 and 2% in 2012, while in Japan, GDP is expected to expand by 1.7% in 2011 and by 1.3% in 2012.
Emerging markets are expected to grow at a quicker pace than the OECD, helping to lift global trade growth to more than 8% annually in 2011 and 2012.
But uneven growth within the OECD area, as well as between the OECD and emerging economies, will add to global imbalances, which are among the most significant threats to the recovery. The OECD warns countries against taking unilateral action in response to exchange rate volatility, and says that international collaboration, notably within the G20 process, will be essential to warding off protectionism.
The Outlook also highlights other downside risks that could derail the recovery, including the potential for renewed drops in real estate prices, most notably in the US and the UK, high sovereign debt in some countries and possible abrupt reversals in government bond yields."
Charts
Click to enlarge
1. GDP Growth projections for OECD and select emerging markets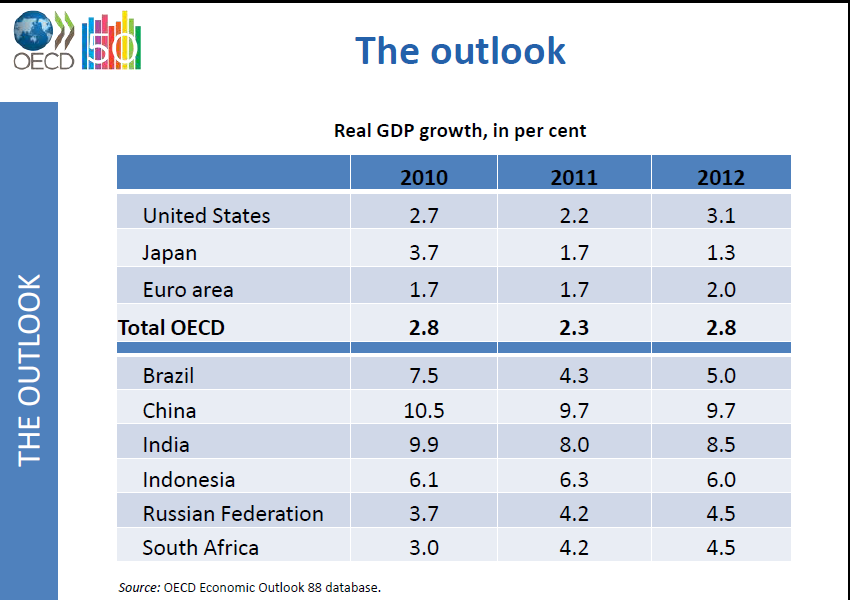 India and China are estimated to have the highest GDP growth next year and in 2012.
2.  Contributions of Emerging markets and OECD countries to Global GDP Growth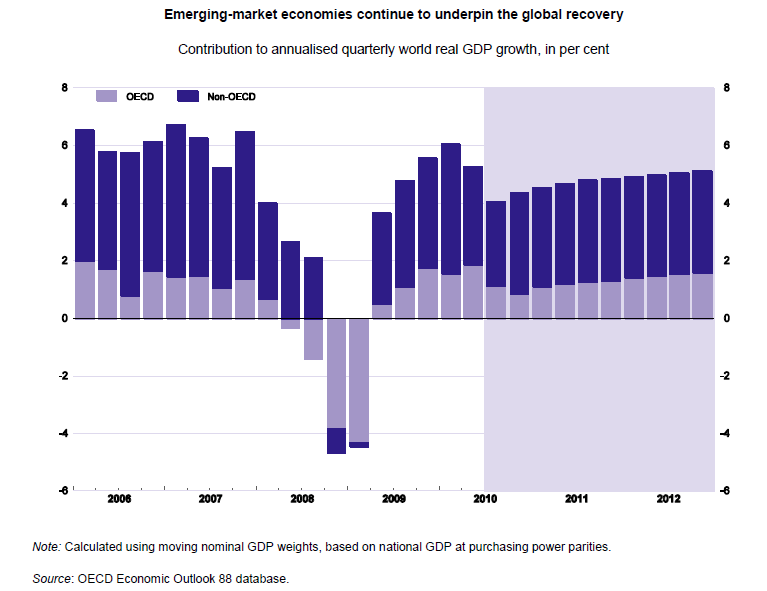 The report also notes that household savings rates are stabilizing in developed countries and that business investment will be the driver of the recovery. Rising corporate profits suggest that business investment could pick up even further in the coming years.
One simple way to profit from emerging market economic growth is to invest in developed companies that have high exposure to emerging markets. Some of multinational firms can be found here and here.