Ireland is relatively a little country with a population of about 4.5 million.Until the late 80s the country was a poor performer in terms of growth and prosperity. However Ireland was erroneously dubbed as a "Celtic Tiger" owing to the staggering economic growth achieved until 2007. This Celtic Tiger name was modeled after the "Asian Tigers" – the countries of Singapore, Taiwan, South Korea and Thailand that gained real exponential growth during the 1980s and 90s. However unlike the Asian Tigers, the Irish miracle was built on the boom in real estate market, financial services, low corporate taxes and a free flow of credit. In other words, Ireland did not turn into an economy built on solid foundations almost overnight like South Korea producing high quality products and exporting them. At its peak, Ireland was home to over 1,100 multinational companies that exported billions of dollars worth of goods and services. In fact, Ireland became the world's largest exporter of software and produced a large portion of drugs for the European market.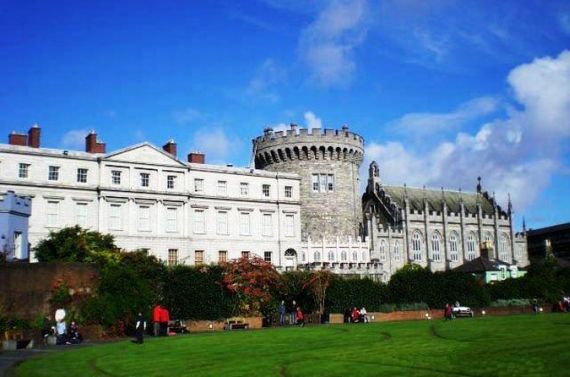 Dublin Castle, Ireland
Some interesting facts about Ireland:
Ireland's GDP grew on an average 5% to 10% from 1995 to 2007.
The average Irish family owes an estimated

132,000 to the banks according to David McWilliams, a former Central Bank of Ireland economist.

Housing prices have fallen 36% since the 2006 peak.
Unemployment rate has jumped to 14% from a low of 4% during the boom years.
Ireland's GDP soared from about $25 billion in the 1980s to $267 billion in 2008.
33% of first-time home buyers in 2006 bought them with no money down.
As many as 29 Irishmen involved in real estate have committed suicide since the crash began.
Source: The Reckoning, Bloomberg BusinessWeek
The 10Â  Largest Irish companies based on market capitalization as of November 24, 2010 are:
1. CRH (CRH)
Market Cap: $8.70B
Sector: Construction – Raw Materials
2. Ryanair Holdings (RYAAY)
Market Cap: $4.86B
Sector: Airlines
3. Kerry Group
Market Cap: $3.81B
Sector:Food Processing
4.Dargson Oil
Market Cap: $2.27B
Sector: Oil & Gas – Integrated
5.Aryzta AG
Market Cap: $2.19B
Sector:Food Processing
6.Elan Corp
Market Cap: $2.0B
Sector: Biotechnology & Drugs
7. DCC Plc
Market Cap: $1.43B
Sector: Oil & Gas Operations
8.Bank of Ireland (IRE)
Market Cap: $1.37B
Sector: Banking
9. Smurfit Kappa Group Public Ltd
Market Cap: $1.37B
Sector: Containers & Packaging
10.Paddy Power PLC
Market Cap: $1.22 B
Sector: Casinos & Gaming