I came across this interesting story at The Global and Mail site. From "The 'blazingly simple,' must-have portfolio:
"About 10 years ago, retired political science professor Mike Henderson singled out these companies for the essential roles they play in the Canadian economy. He then invested in each of them for the core of the retirement savings he and his wife would rely on. The cumulative average 10-year total return on these stocks (that's share-price gains plus dividends) was 305 per cent, far better than the 72-per-cent gain for the S&P/TSX composite index.
Though he has a PhD from the London School of Economics, Mr. Henderson is no financial pro. Think of him as an informed amateur whose investing was influenced by his experience lecturing on the interaction of government and large corporations in Canada.
"The idea just came to me, and it was blazingly simple," he said from his Toronto home. "I basically sat down and thought, what is absolutely essential to our society, and who provides those essentials?""
The chart below shows the 10-year performance of  Mr.Henderson's stock picks against the S&P/TSX composite index:
Click to enlarge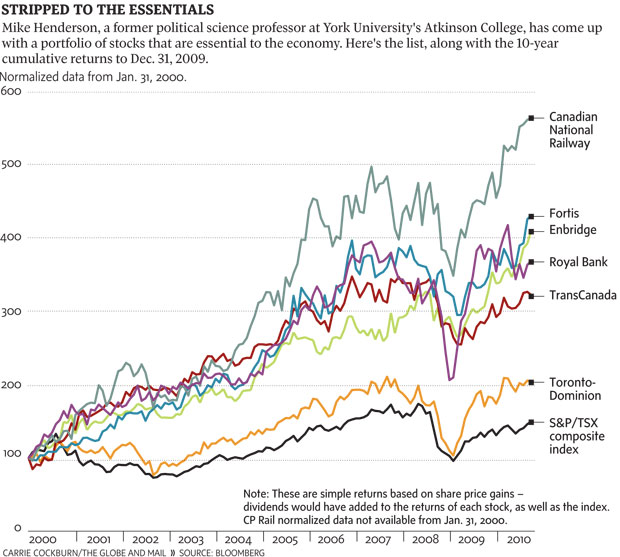 Please note that the returns shown are based on the TSX prices.
His seven picks were:
1. Railroads – Canadian National (CNI) & Canadian Pacific (CP)
2. Pipeline Operators – Enbridge (ENB), Fortis (FRTSF) and TransCanada (TRP)
3. Banks – TD Bank (TD) and Royal Bank of Canada (RY)
Two of the common features shared by the companies above are: All pay dividends and all are well established companies with a record of increasing dividend payments.