New York city-based The Commonwealth Fund published a report few months ago comparing the the U.S. to six other developed countries on measures of healthcare performance in five areas: quality, efficiency, access to care, equity and the ability to lead long, healthy, productive lives. The countries compared were Australia, Canada, Germany, the Netherlands, New Zealand, and the United Kingdom. Despite having the most expensive healthcare system in the world, the U.S. ranked last in this comparison.
Click to enlarge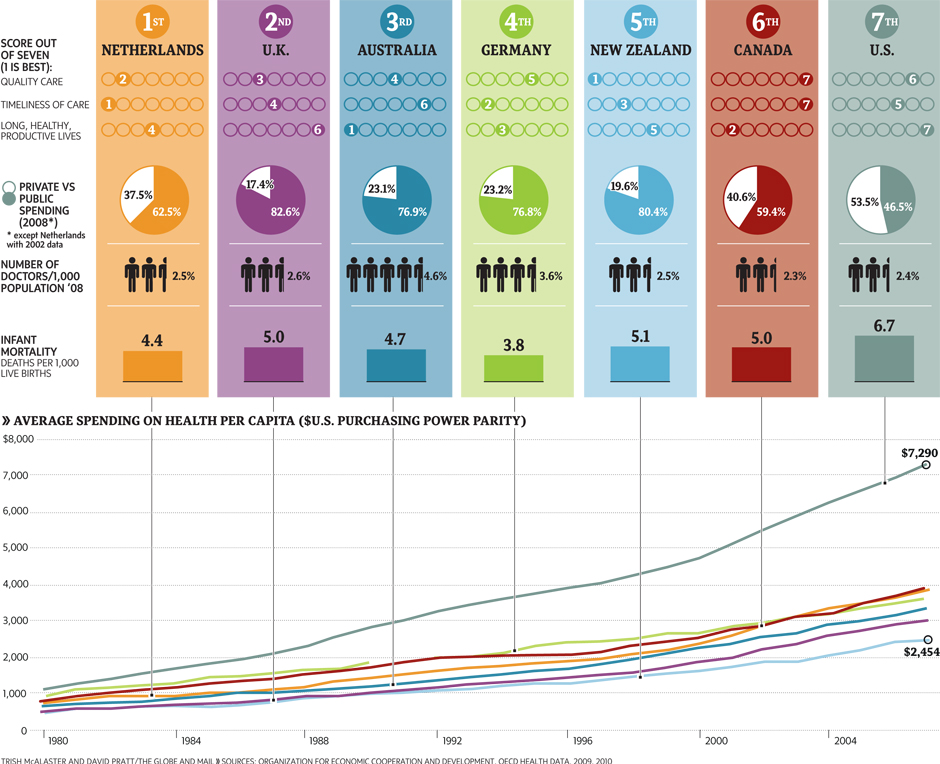 Source: via The Global and Mail
The U.S. ranked last in terms of efficiency such as use of information technology, spending on administrative costs, duplicate medical testing, etc. Another key point noted by the report is that Americans have the hardest time affording the health care they need. Lack of affordability of healthcare adversely affects factors such as leading healthy and productive lives, infant mortality and deaths before the age of 75.
From a news release:
"Provisions in the Affordable Care Act that could extend health insurance coverage to 32 million uninsured Americans have the potential to promote improvements to the United States' standing when it comes to access to care and equity according to Mirror Mirror On The Wall: How the Performance of the U.S. Health Care System Compares Internationally 2010 Update, by Commonwealth Fund researchers Karen Davis, Cathy Schoen, and Kristof Stremikis. The United States' low marks in the quality and efficiency dimensions demonstrate the need to quickly implement provisions in the new health reform law and stimulus legislation that focus on realigning incentives to reward higher quality and greater value, investment in preventive care, and expanding the use of health information technology.
"It is disappointing, but not surprising that, despite our significant investment in health care, the U.S. continues to lag behind other countries," said Commonwealth Fund President and lead author Karen Davis. "With enactment of the Affordable Care Act, however, we have entered a new era in American health care. We will begin strengthening primary care and investing in health information technology and quality improvement, ensuring that all Americans can obtain access to high quality, efficient health care."
Earlier editions of the report, produced in 2004, 2006, and 2007, showed similar results. This year's version incorporates data from patient and physician surveys conducted in seven countries in 2007, 2008, and 2009."
You can download the full report in pdf format by clicking here.