"I'll tell you why I like the cigarette business. It cost a penny to make. Sell it for a dollar. It's addictive. And there's a fantastic brand loyalty." – Warren Buffet
Page Updated: 4/7/19
The tobacco industry sells about six trillion cigarettes each year. The industry is highly concentrated with a handful of firms controlling the majority of the global tobacco market. The tobacco market was worth about $614 billion in 2009.China is the biggest market based on total cigarettes consumed. There are some 350 million smokers in China who consume around 2,200 billion cigarettes a year, or about 41% of the global total. However the industry in China is state-owned by the monopolistic China National Tobacco Company.
Outside of China, the four largest publicly-listed international tobacco companies account for about 46% of the global market according to British American Tobacco (BTI).
Philip Morris International is US-based and BAT and Imperial Tobacco are based in the UK.Companies that operate mainly in the domestic markets include Egypt's Eastern Tobacco, Thailand's Tobacco Monopoly, Bulgaria's Bulgartabak, Taiwan's Tobacco & Liquor Corp and Vietnam's National Tobacco Corporation. The major American players in the U.S. market are Altria(MO), Vector Group Ltd (VGR) and Turning Point Brands, Inc.(TPB).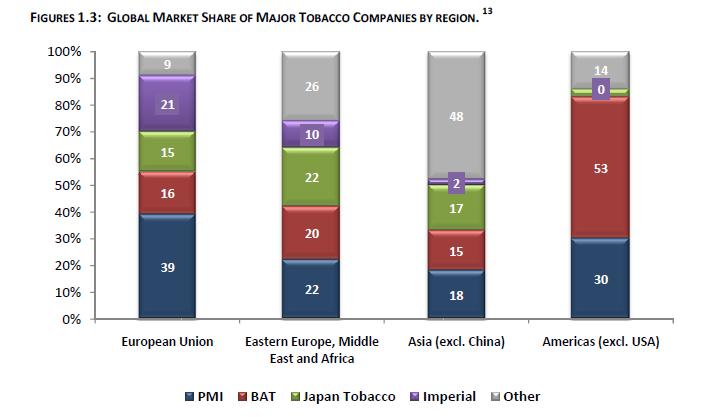 Based on the total number of cigarettes sold, the top five global brands are Marlboro, Winston, Mild Seven, L &M and Kent.
After China, the ten countries that consume the largest number of cigarettes are Russia, the U.S., Japan, Indonesia, India, Brazil, Ukraine, Turkey, Korea and Italy. The relationship between volume of cigarettes sold and volume of profits shipped are not consistent across markets. For example, Phillip Morris International's sales in OECD countries accounts for one-third of total sales but accounts for 46% of total profits. And the tow-third of sales in non-OECD nations account for only 54% of its profits.
Due to their scope and scale of profits, tobacco companies  transfer huge amounts of wealth from one region of the world to another. In 2008, around $20 billion was earned by tobacco companies from outside their home territories.
The Top tobacco growing countries are shown in the graphic below: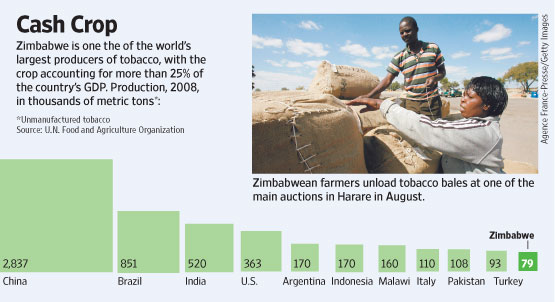 In addition to shareholders, one of the biggest beneficiaries of sales of tobacco are the governments of various countries. Governments worldwide generated over $160 billion in the form of excise taxes, duties, income taxes, etc. from just nine companies in 2008.
Current and Future State of the industry:
Cigarette smoking is declining in the developed world due to unprecedented bans on cigarette usage in public places, restrictions on advertising, extremely high taxes, health warnings, limitations on retail display and other factors. In addition, the percentage of population who are smokers is reducing. As a result consumers in developed countries are switching to lower-priced offerings and alternatives to cigarettes such as smokeless tobacco, snus, etc.
While sales is declining in developed countries it is booming in emerging markets. Tobacco makers are aggressively marketing in those markets in order to compensate for the declining sales in rich countries. However even in emerging markets governments are proposing tougher regulations governing the sales and marketing of tobacco products.
From an article in the New York Times:
This year, Philip Morris International sued the government of Uruguay, saying its tobacco regulations were excessive. World Health Organization officials say the suit represents an effort by the industry to intimidate the country, as well as other nations attending the conference, that are considering strict marketing requirements for tobacco.

Uruguay's groundbreaking law mandates that health warnings cover 80 percent of cigarette packages. It also limits each brand, like Marlboro, to one package design, so that alternate designs don't mislead smokers into believing the products inside are less harmful.

The lawsuit against Uruguay, filed at a World Bank affiliate in Washington, seeks unspecified damages for lost profits.

They are using litigation to threaten low- and middle-income countries, says Dr. Douglas Bettcher, head of the W.H.O.'s Tobacco Free Initiative. Uruguay's gross domestic profit is half the size of the company's $66 billion in annual sales.

Peter Nixon, a vice president and spokesman for Philip Morris International, said the company was complying with every nation's marketing laws while selling a lawful product for adult consumers.

He said the company's lawsuits were intended to combat what it felt were excessive regulations, and to protect its trademark and commercial property rights.

Cigarette companies are aggressively recruiting new customers in developing nations, Dr. Bettcher said, to replace those who are quitting or dying in the United States and Europe, where smoking rates have fallen precipitously. Worldwide cigarette sales are rising 2 percent a year.

But the number of countries adopting tougher rules, as well as the global treaty, underscore the breadth of the battleground between tobacco and public health interests in legal and political arenas from Latin America to Africa to Asia.

The cigarette companies work together to fight some strict policies and go their separate ways on others. For instance, Philip Morris USA, a division of Altria Group, helped negotiate and supported the anti-smoking legislation passed by Congress last year and did not join a lawsuit filed by R. J. Reynolds, Lorillard and other tobacco companies against the Food and Drug Administration. So far, it is not protesting the agency's new rules, proposed last week, requiring graphic images with health warnings on cigarette packs.

But Philip Morris International, the separate company spun out of Altria in 2008 to expand the company's presence in foreign markets, has been especially aggressive in fighting new restrictions overseas.

It has not only sued Uruguay, but also Brazil, arguing that images the government wants to put on cigarette packages do not accurately depict the health effects of smoking and vilify tobacco companies. The pictures depict more grotesque health effects than the smaller labels recommended in the United States, including one showing a fetus with the warning that smoking can cause spontaneous abortion.

In Ireland and Norway, Philip Morris subsidiaries are suing over prohibitions on store displays.

In Australia, where the government announced a plan that would require cigarettes to be in plain brown or white packaging to make them less attractive to buyers, a Philip Morris official directed an opposition media campaign during the federal elections last summer, according to documents obtained by an Australian television program, and later obtained by The New York Times.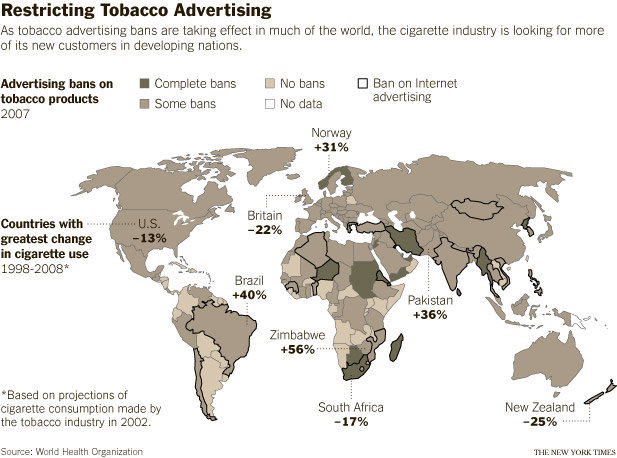 Hence similar to other sectors tobacco multinationals are increasingly dependent on emerging markets to maintain earnings. As income levels and standard of living increases in EM countries, sales of tobacco products may increase further. In some ways a bet on tobacco stocks can be considered as a bet on emerging markets.
Currently Altria Group (MO),Philip Morris International (PMI) and Imperial Tobacco Group (ITYBY) pay have dividend yields between 4% to 6% while Swedish Match (SWMAY) and British American Tobacco (BTI) pay between 2% to 3%.
Sources: Euromonitor International, The New York Times, The Wall Street Journal, Company sites, WHO, The Global Tobacco Economy by Physicians for a Smoke-Free Canada.
Tobacco Stocks List:
Related Articles:
The Tobacco Atlas, World Lung Foundation & American Cancer Society
Tobacco industry, Wikipedia
New Tobacco Atlas Estimates U.S. $35 Billion Tobacco Industry Profits and  Almost 6 Million Annual Deaths
Tobacco industry dying? Not so fast, says Stanford expert, Stanford University News
Tobacco Industry, Guardian, UK
Tobacco atlas: country by country, Guardian, UK
Tobacco in Australia, The Cancer Council
The Tobacco Atlas, WHO
Tobacco Economics, Allan Gray Asset Managemen
Philip Morris International Inc, Euromonitor
The Legacy Tobacco Digital Library – Contains more than 14 million documents created by the industry (University of California, San Francisco)
Top Global Tobacco Companies:
Click to enlarge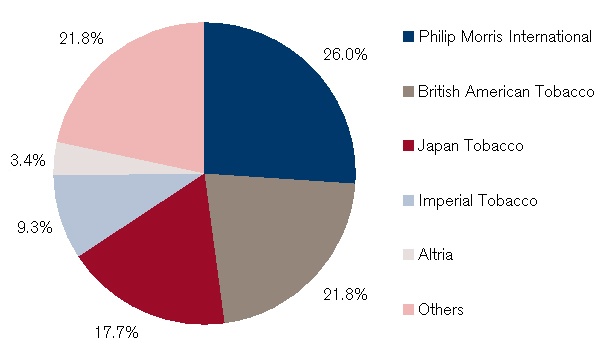 Source:  Tobacco Industry Set to Grow In Emerging Markets, Credit Suisse
From TobaccoFreeKids.org site:
Click to enlarge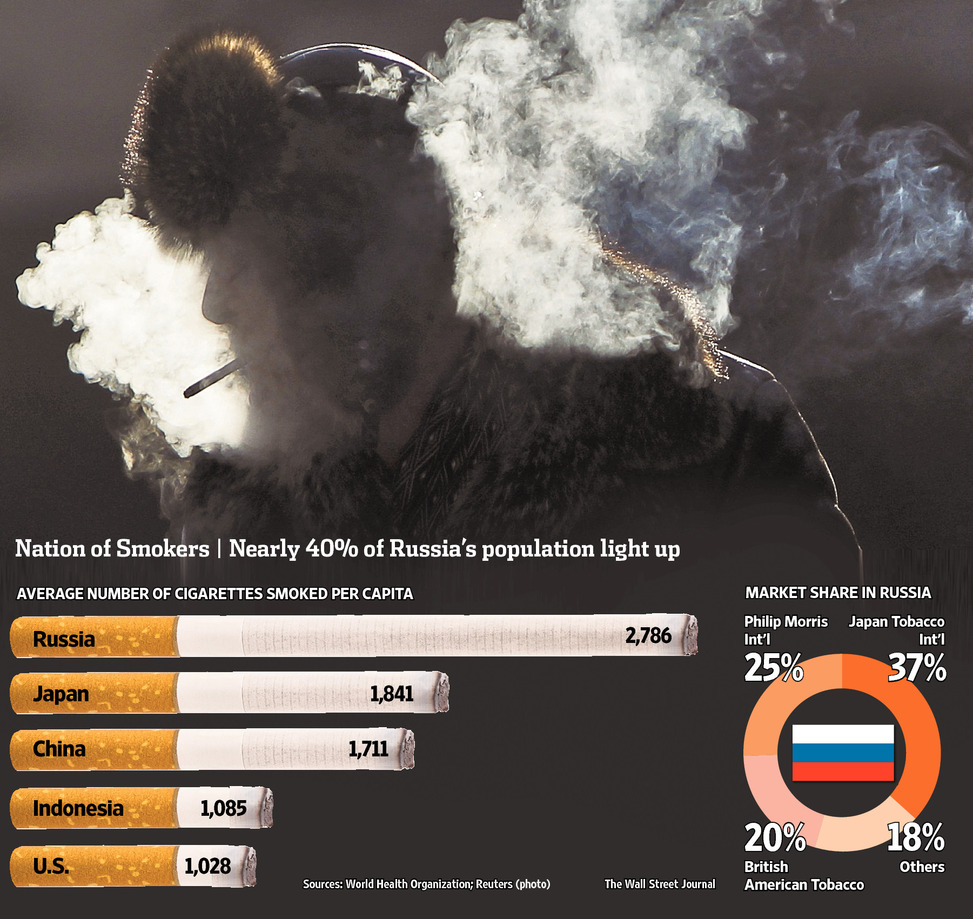 Source: Kremlin Cracks Down on Big Tobacco, WSJ
Biggest Global Tobacco Makers: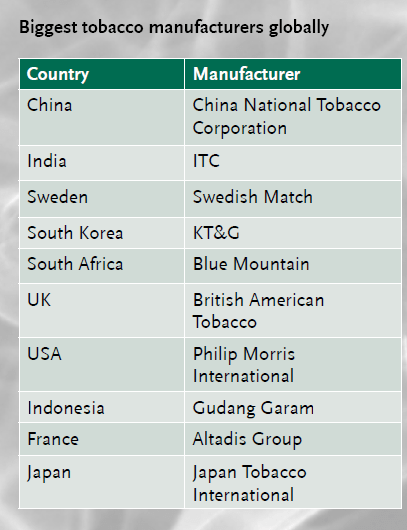 Source: The Global Tobacco Industry (Click to download the pdf report), Mazars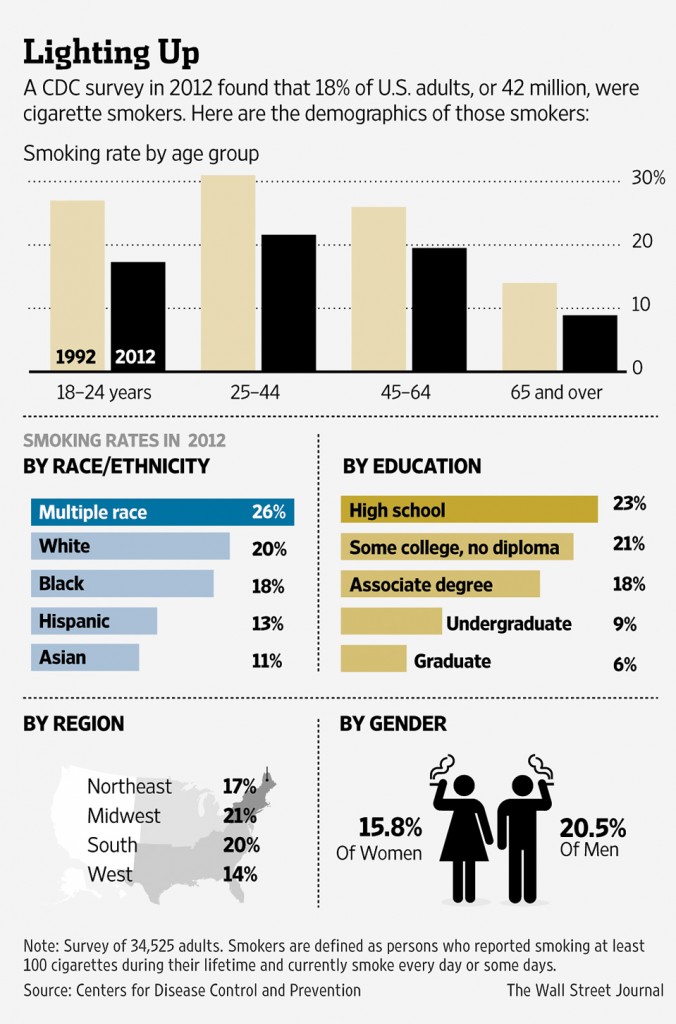 Source: America's Smokers: Still 40 Million Strong, The Wall Street Journal, July 16, 2014
World's Top Tobacco Companies 2014 (Bloomberg Industry Market Leaders)
Where people smoke the most (and least) cigarettes per person: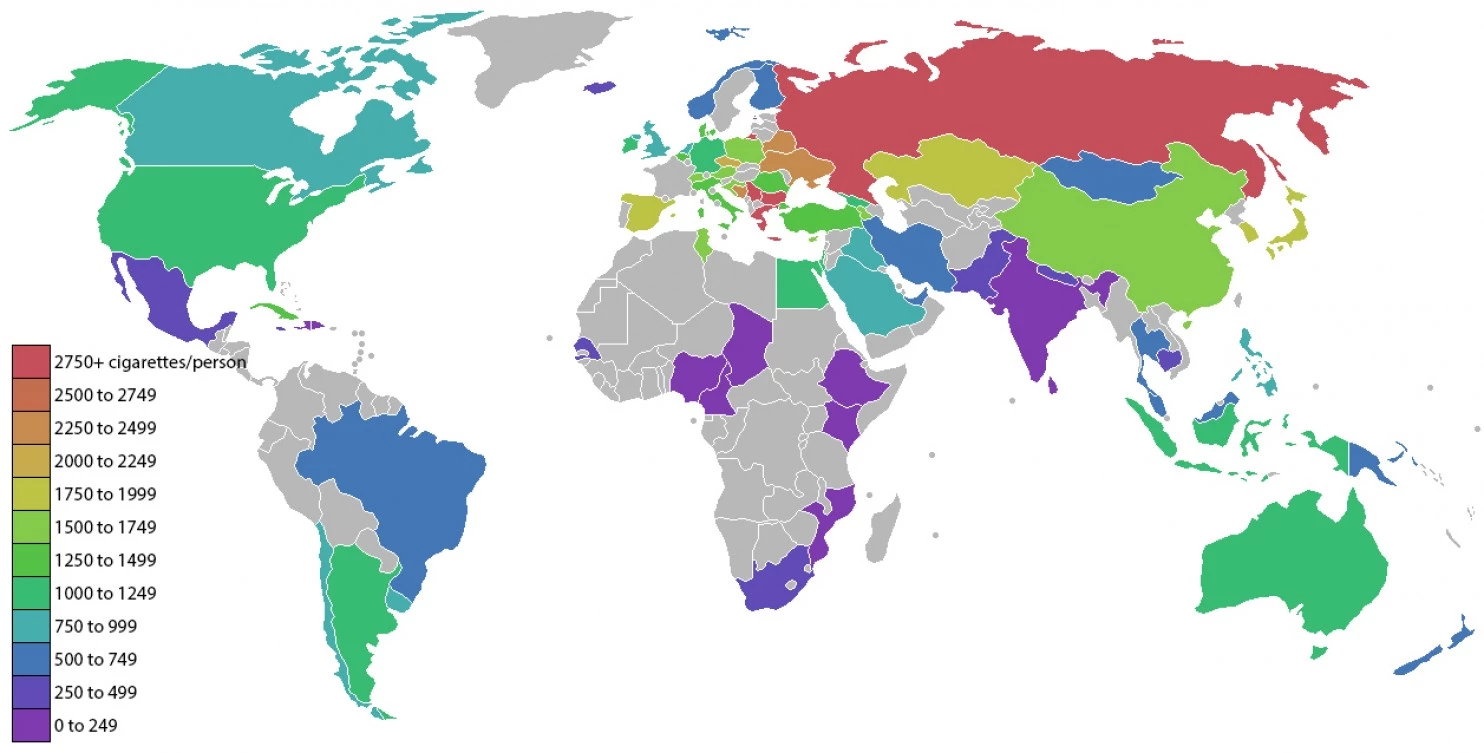 Source: 40 maps that explain the world, The Washington Post, Aug 12, 2013
Click to enlarge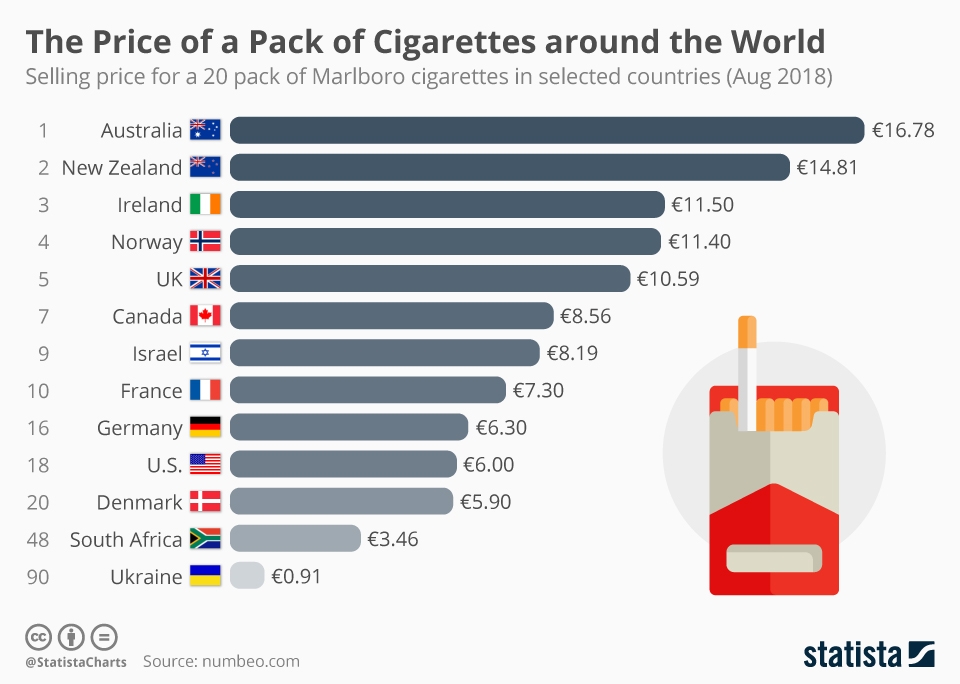 Source: Statista