In addition to the global financial crisis, foreign developed-country stocks have endured the Greek debt crisis, weakness in European currencies, doubts over the strength of the global recovery, etc. in the past couple of years. Accordingly many of the developed-country equities have been the worst performers so far this year. For example, the Spanish IBEX 35 is down 10.4% as of October 23, 2010.
Despite the recent negative events, foreign developed-country stocks are no strangers to turmoil and have not only survived but have also emerged strongly from many crises in the past. The chart below shows the performance of a diversified mix of foreign developed-country equities thru twenty major crises since 1973: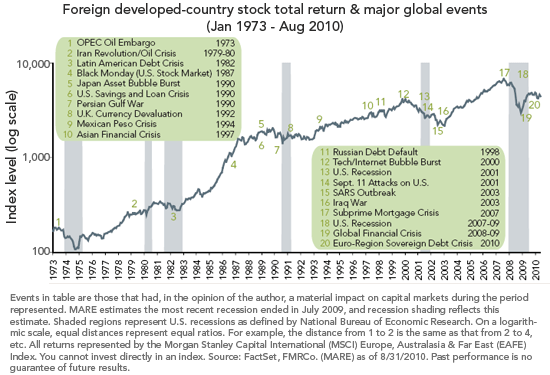 Source: Fidelity Investments
A $10,000 hypothetical investment in a diversified mix of foreign developed equities with the MSCI EAFE on January 1st, 1973 would have been worth $276,000 at the end of August 2010 including reinvestment of dividends and interest income.
Hence investors must focus on diversification opportunities while investing in foreign developed market equities.While the economies of Spain, France, Greece and other European countries are not performing well this year, the German economy has rebounded sharply and continues to expand. So the CAC 40, IBEX 35 indices are down for the year. But the DAX is up 10.2% as of yesterday's market close.
Related ETFs:
1. iShares MSCI EAFE Index Fund (EFA)
2. Vanguard European ETF (VGK)