The Top 25 Chinese Banks based on Tier 1 Capital in 2009 are listed below. This ranking is part of the annual World's Top 1000 Banks published by the influential The Banker magazine based in London,UK.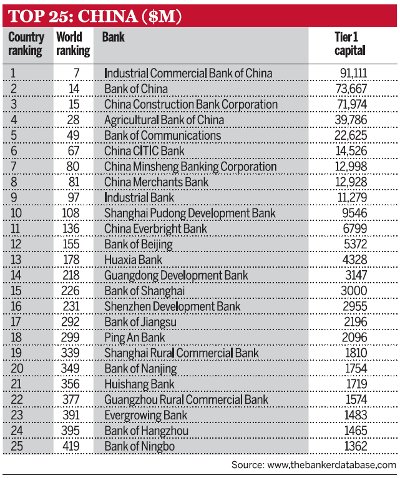 Source: The Banker
Note: The Tier 1 Capital is in $ millions.
The top bank in China is Industrial Commercial Bank of China (ICBC) which also ranked as the 7th best bank in the global ranking. The four new entrants in the list above are Ping An Bank, Guangzhou Rural Commercial Bank, Evergrowing Bank and Bank of Hangzhou. Some of the banks that trade on the OTC markets in the U.S. are Bank of China (BACHY),China Construction Bank Corporation (CICHY), China Merchants Bank (CIHKY) and Industrial and Commercial Bank of China (IDCBY).