Gold futures increased more than 1% today. Gold for August delivery added $14.80 to settle $1,213.50 an ounce on the New York Mercantile Exchange. Prices reached a record high last month ending at $1,264.90 on June 21. On January 4, 2000 the price stood at $281.50 an ounce. As the global economic conditions continue to be volatile, investors are attracted to the yellow metal like never before.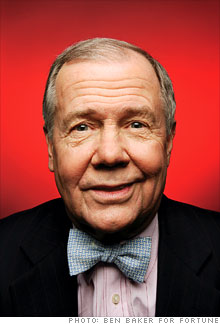 In an interview with Outlook Money, the famous American investment guru Jim Rogers expressed his concern over the massive stimulus packages that governments have injected into their economies in the past few months. The following is the excerpt of the interview:
"What mainly drives gold prices?
There's enormous debasement of money all over the world. Every government is printing huge amounts of money and running up huge debts during economic turmoil.So some people are looking at gold as a refuge as they have done throughout history. Governments are spending money they don't have and printing money they don't have.That,throughout history, has always led to problems with paper money. And paper money is just paper.Many politicians take advantage of people by printing more and more money, and so paper money becomes less and less valuable. So some people look for real assets, whether it's silver, cotton or natural gas to protect themselves.
How do you see gold as an investment now?
I own gold and don't plan to sell it now.I expect gold to be much higher over the next decade.However I don't know if I would buy it today, given it's making all-time highs as we speak. I think if you are buying precious metals right now, you might think of buying silver, platinum or palladium as they are down from their all-time high these days, in contrast to gold, and therefore make a good purchase.
How long do you plan to stay invested in gold?
At least till gold is over $2,000 [current price $1,246/oz-Ed.]. Who knows, it could go very, very high if governments continue to debase their currency.I hope I am smart enough to sell my gold, because someday gold will be in a mania phase.But that is a long way from now.
Might gold come off if there's a global economic recovery?
Of course, there are always corrections in every market.Nothing goes up every week or every year even. And you know gold has gone up every year for the past nine years, it needs a correction and let's hope it has a correction. A couple of years ago, gold went down 40 or 50 percent. It wasn't the end of the bull market, it was just a major correction.
What is the best way to own gold?
I own gold coins and gold futures.If you want small denominations coins are a good way.And if you have lots of money and you know what you are doing, you can use leverage and have gold futures. But it really depends on what an individual prefers. There are ETFs now, which makes it extremely easy for many people to own gold."
Note: The above interview appears in the print edition of the magazine.
The current U.S. Total Public Debt Outstanding is: $13,194,523,014,378.23
The Interest Expense on the Debt Outstanding for June, 2010: $106,661,088,328.82
Since 2006, the U.S. Federal Reserve stopped publishing the Money Supply (M3) number. Hence the accurate figure is not available.