Last month the Global Finance magazine announced the awards for the best banks in the developed world for this year. The winners were selected in 25 countries excluding Ireland and Iceland.
From the magazine report:
"All selections were made by the editors of Global Finance, after extensive consultations with bankers, corporate financial executives and analysts throughout the world. In selecting these top banks, we considered factors that range from the quantitative objective to the informed subjective. Banks were invited to submit entries supporting their selection. Amid nominally objective criteria were growth in assets, profitability, geographic reach, strategic relationships, new business development and innovation in products. Subjective criteria included the opinions of equity analysts, credit rating analysts, banking consultants and others involved in the industry."
The World's Best Developed Market Banks for 2010 are: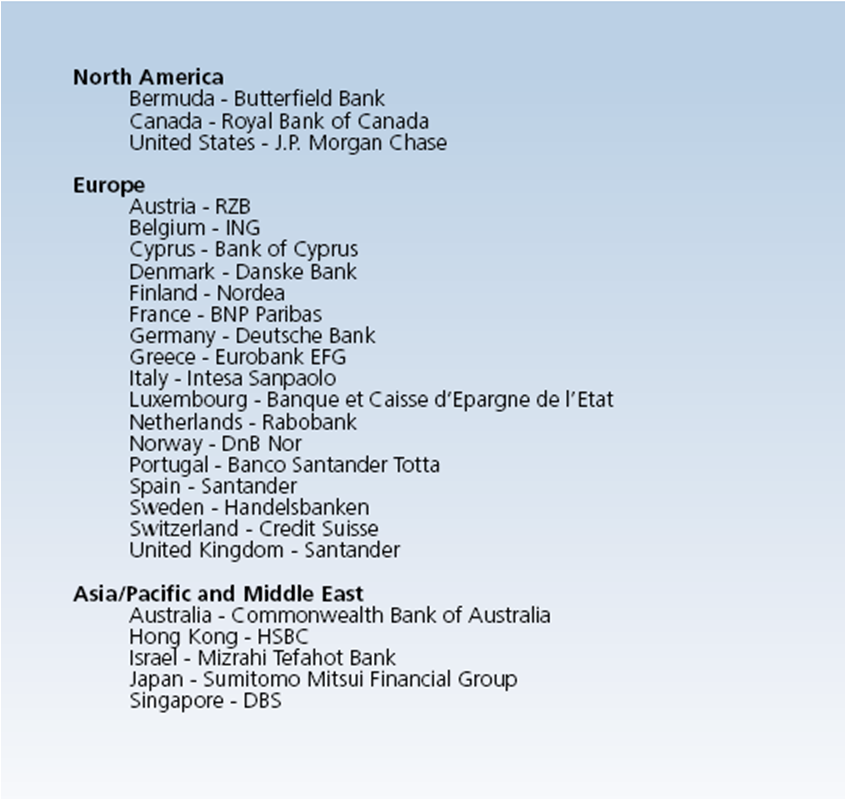 Source: Global Finance
Among the banks in the U.S., one of the four supers JP Morgan Chase (JPM) was ranked the best bank. After last year's low in March Chase has rebounded well and closed at $42.81 yesterday.Royal Bank of Canada(RY), the winner from Canada has a 3.45% dividend yield now.The bank is a consistent long-term performer.
Some of the notable top ranked banks in Europe were ING(ING) of Belgium, Danske Bank (OTC: DNSKY) of Denmark, BNP Paribas(OTC: BNPQY) of France and Deutsche Bank(DB) of Germany. Santander(STD) of Spain was the winner in both Spain and the UK.
Santander rebranded the British banking brands Abbey National, Alliance & Leicester and Bradford & Bingley under the Santander name this year.Santander has about 1,300 branches in the UK. While its competitor Societe Generale(OTC: SCGLY) is still suffering from losses, BNP Paribas survived the credit crisis and remains strong. Its fourth quarter earnings more than doubled but the bank raised its dividend  by 50%.
DBS Group Holdings (OTC: DBSDY) of Singapore currently pays a 3.99% dividend.