Platts, the highly respected energy consulting company, released its Platts Top 250 Global Energy Company Rankings for 2009 this week. One of the sub-sector of this ranking is the Fastest Growing Energy Companies in Asia.
The Top 20 Fastest Growing Energy Companies in Asia: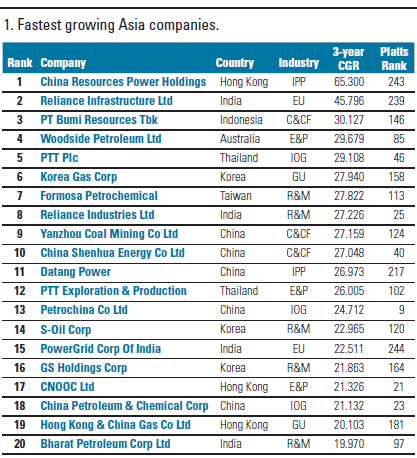 Note:
IOG – Integrated Oil & Gas
DU – Diversified Utility
E&P – Exploration & Production
EU – Electric Utility
R &M – Refining & Marketing
C&CF – Coal and Consumable Fuels
GU – Gas Utility
ST – Storage & Transfer
IPP – Independent Power Producer
Source: Platts
Some of the large Asian oil companies in this list are China's PetroChina (PTR) , S-Oil Corp of South Korea, CNOOC Ltd (CEO) of Hong Kong and Bharat Petroleum Corp of India.
The Platts report noted:
"Asian companies made up more than 20% of the 50 fastest growing companies list, and also took 30% of the top 10 places in the Refining & Marketing category. Reliance Industries and Indian Oil Corporation were first and second, with TonenGeneral Sekiyu of Japan third."
In the Global Top 250 list, the presence of Asian companies has risen by about 15% in the last two years.