Poland is one of the few Eastern and Central European countries that is in a better shape in the current recession. A small contraction of 0.75% is projected by the IMF for this year.
In the article Poland: Bright Spot in Recession-Hit Europe, the IMF states:
"Why is Poland different? To be sure, its flexible exchange rate regime has served it well by facilitating the economy's adjustment to the external shock. Also, the approval of an IMF credit line for Poland earlier this year—a new instrument known as the Flexible Credit Line—helped calm markets. The zloty stabilized at its new lower level, CDS spreads declined, and the government—which, throughout the crisis, had maintained access to international markets—saw a decline in the interest rate it was paying on its bonds.
But, most importantly, Poland's resilience owes much to sound economic policies that have helped the country avoid the buildup of large external and internal imbalances seen elsewhere in central and eastern Europe (see Chart 2). Because Poland entered the crisis with relatively healthy fundamentals, the government has been able to implement counter-cyclical policies. These, in turn, are now cushioning the downturn."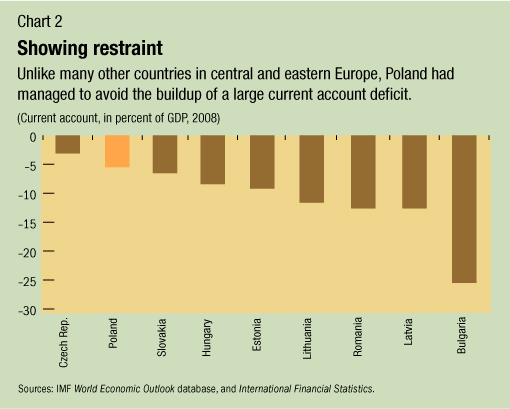 Another reason is credit expansion was much lower in Poland than other peer countries. Unlike the US Fed, the authorities in Poland are vigilant and proactive.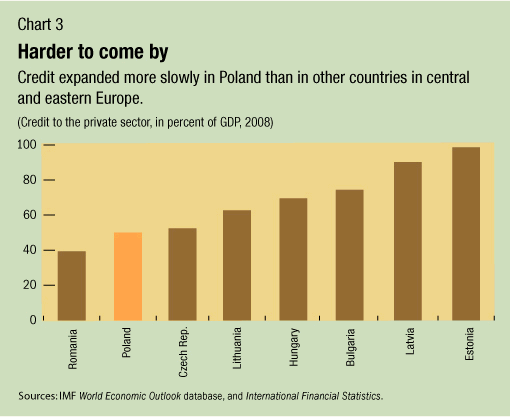 Which brings us to the banking system in Poland. Foreign banks dominate the Polish banking system.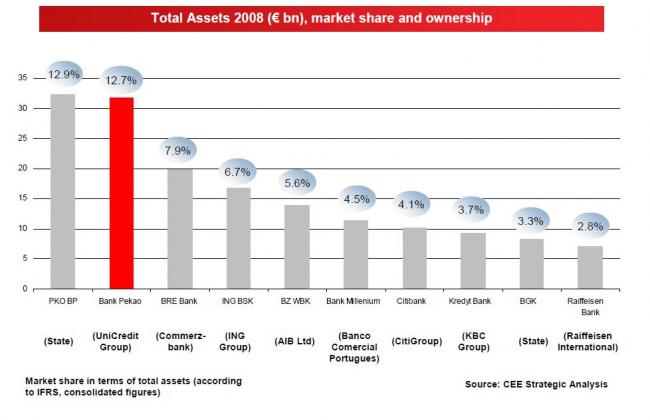 The Top 10 Banks in Poland based on Assets held at the end of 2008 were:
1.PKO BP (OTC: PSZKY)
State-owned
2.Bank Pekao (part of UniCredit of Italy)
3. BRE bank (OTC:BREJY)
Investor – Commerzbank of Germany (OTC: CRZBY)
4. ING BSK (Investor – ING Group (ING) )
5. BZ WBK
Investor – Allied Irish Bank (AIB)
6. Bank Millenium
7. Citibank (C)
8. Kredyt Bank
9. BGK
State-owned
10. Raiffeisen Bank – Part of the Raiffeisen Group of Austria.