The Top 250 Global Energy Companies for 2009 will be announced by Platts, the highly respected energy consultancy, in November. Some of the companies from emerging markets in Asia are expected to move up in this list compared to last year's rankings.
Crude oil futures for October delivery traded at above $72 in the New York Mercantile Exchange yesterday. Due to rising domestic consumption and infrastructure spending, demand for energy in Asian countries will go up. As we wait for the 2009 rankings, lets take a look at the companies that made it to the list last year.
The Top 20 Energy Companies of Asia in 2008: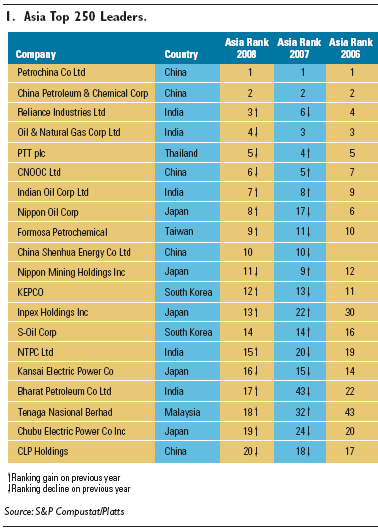 Source: Platts

Chinese and Indian companies dominate the above list. The two large Chinese oil companies listed in the New York Stock Exchange are CNOOC Ltd.(CEO) and PetroChina Co. Ltd. (PTR). All the other companies do not trade in the organized U.S. exchanges. Many of the Asian energy companies are still owned by the state. Hence governments have to fast-track deregulation and public listing of these companies.