After setting a record above $1,000 an ounce during March 2008, Gold bullion prices have been volatile. Accordingly Gold stocks have been volatile as well during the past few months.Gold prices 5-year-char: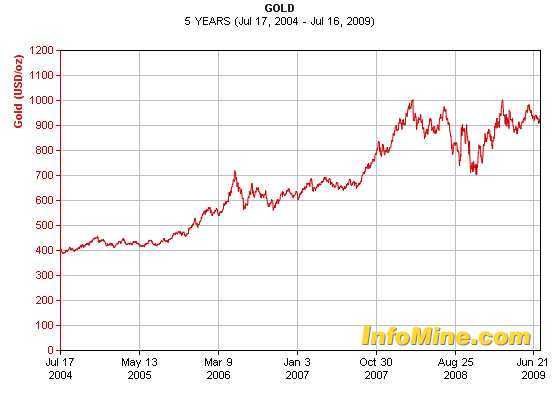 Since early Jun, gold stocks have been heading down. In the past 12 months gold stocks have lost their upward momentum as well.
A recent article  Gold stocks: neutral to souring from Mineweb lists the most valuable listed The Top 10 Gold Stocks. This list includes:
Barrick Gold Corporation (ABX)
Goldcorp Inc. (GG)
Newmont Mining Corp. (NEM)
Zijin
Kinross Gold Corporation (KGC)
AngloGold Ashanti Ltd. (AU)
Newcrest
Gold Fields
Agnico-Eagle Mines Ltd. (AEM)
Zhongjin
As the Shanghai Composite  Index has soared this year, Chinese gold miners Zijin and  Zhongjin have made it to the list. The world's largest gold miner is Barrick Gold of Canada. Currently Barrick (ABX) has a market cap. of about $28B. It has operations in North America, South America, Australia Pacific and Africa. The number two miner Goldcorp  is also a Canadian mining company with a market of about $26B. Denver-based US miner Newmont Mining (NEM)  has operations in five continents. Newmont is also one of the world's largest gold producers. It is also the only gold company included in the S&P 500 Index and Fortune 500.