Utility stocks are traditionally owned by investors for their stability and some growth through the years. During times of adverse market conditions they remain strong providing a cushion effect to a diversified portfolio and when the market booms they offer stability with decent income in the form of dividends. Investors witnessed this scenario in 2022 when the S&P 500 declined with growth stocks especially going out of favor and utilities stood as a rock. However this year it is turning out to be different. With interest rates reaching much higher utilities have struggled year-to-date. A variety of factors have made this sector unattractive in the market. Some of these factors include:
High interest rates of 5% or more available on Certificate of Deposits (CDs) offered by banks
Unpredictable bad weather from wild fires to hurricanes to tornados hitting many states
Challenges in approvals of rate increases by state regulators
Growth of renewable energy
Policies favoring renewable energy over traditional energy sources
Utility stocks have also become more volatile than in the past. For instance, when wildfires devastated Hawaii a few months ago, investors in Hawaiian Electric(HE) rushed to the exit like they would normally do from a tech stock. The threat of lawsuits and negative news led to a decline of over 70% in the stock price so far this year.
That said, utilities still have a place in a portfolio for any number of reasons. The most simple one is that in most cases they are monopolies in their local markets and utilities are a necessity for living.
Utilities have underperformed the overall market so far this year. The following chart shows the performance (total returns including dividends reinvested) of a select few stocks relative to the S&P 500:
Click to enlarge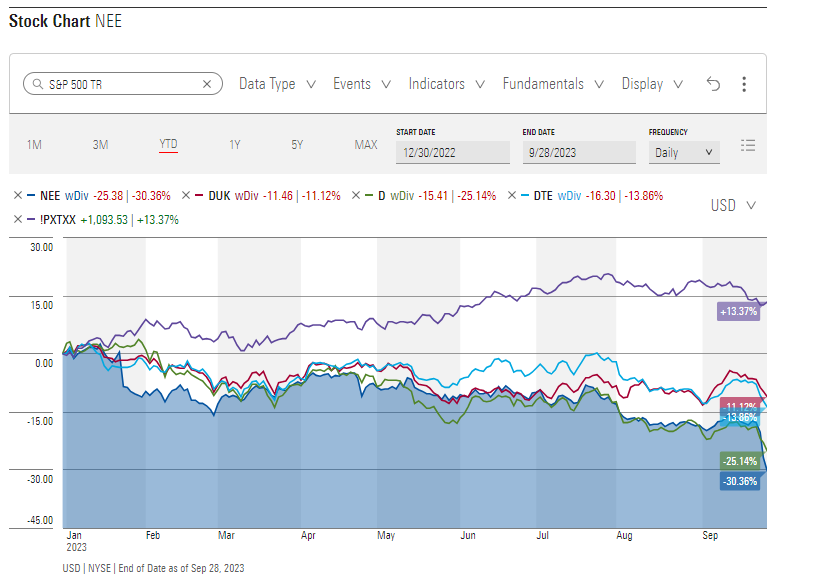 Notes:
The returns shown above are of Sept 28, 2023.
!PXTXX is the S&P 500 Total Return Index.
The chart below shows the 5-year total returns:
Click to enlarge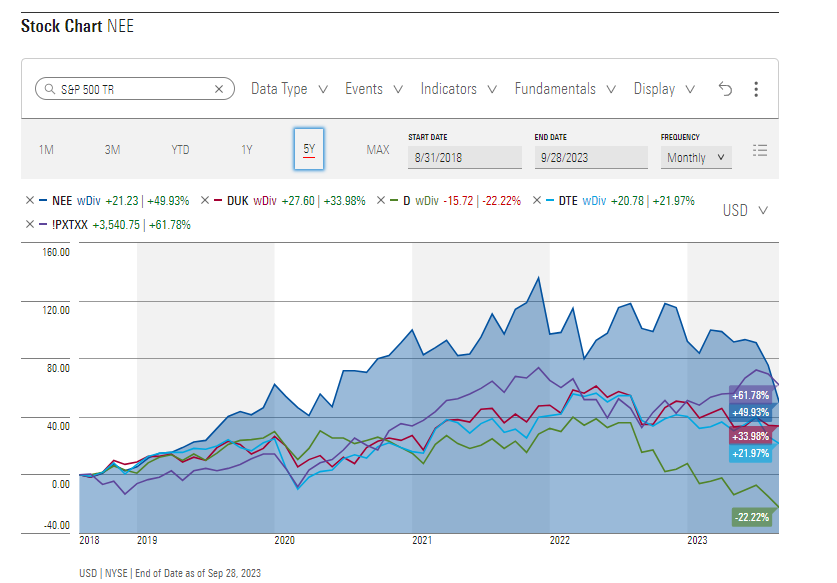 Source: MorningStar
From an investment standpoint, now is not the time to add utility stocks. With interest rates projected to remain high for the foreseeable future investors can wait and watch this sector.
Related stocks:
Related:
Disclosure: Long DTE and NEE