Amtrak is the national passenger railroad company is the US. Unlike other countries Amtrak does not own most of the tracks its trains run on. Most of the tracks are owned by the freight railroad companies. So it is not uncommon Amtrak trains and freight trains compete for the same track at the same time. Since freight companies are the owners in many cases Amtrak trains would wait for clearance of the tracks. Below is brief excerpt from Wikipedia:
Amtrak's network includes over 500 stations along 21,400 miles (34,000 km) of track. It directly owns approximately 623 miles (1,003 km) of this track and operates an additional 132 miles of track; the remaining mileage is over rail lines owned by other railroad companies. Some track sections allow trains to run as fast as 150 mph (240 km/h).

In fiscal year 2022, Amtrak served 22.9 million passengers and had $2.1 billion in revenue, with more than 17,100 employees as of fiscal year 2021. Nearly 87,000 passengers ride more than 300 Amtrak trains daily. Nearly two-thirds of passengers come from the 10 largest metropolitan areas; 83% of passengers travel on routes shorter than 400 miles (645 km).
Source: Wikipedia
Last year I posted an infographic on the differences between Amtrak and Freight Railroads. The following is another take on the topic:
Click to enlarge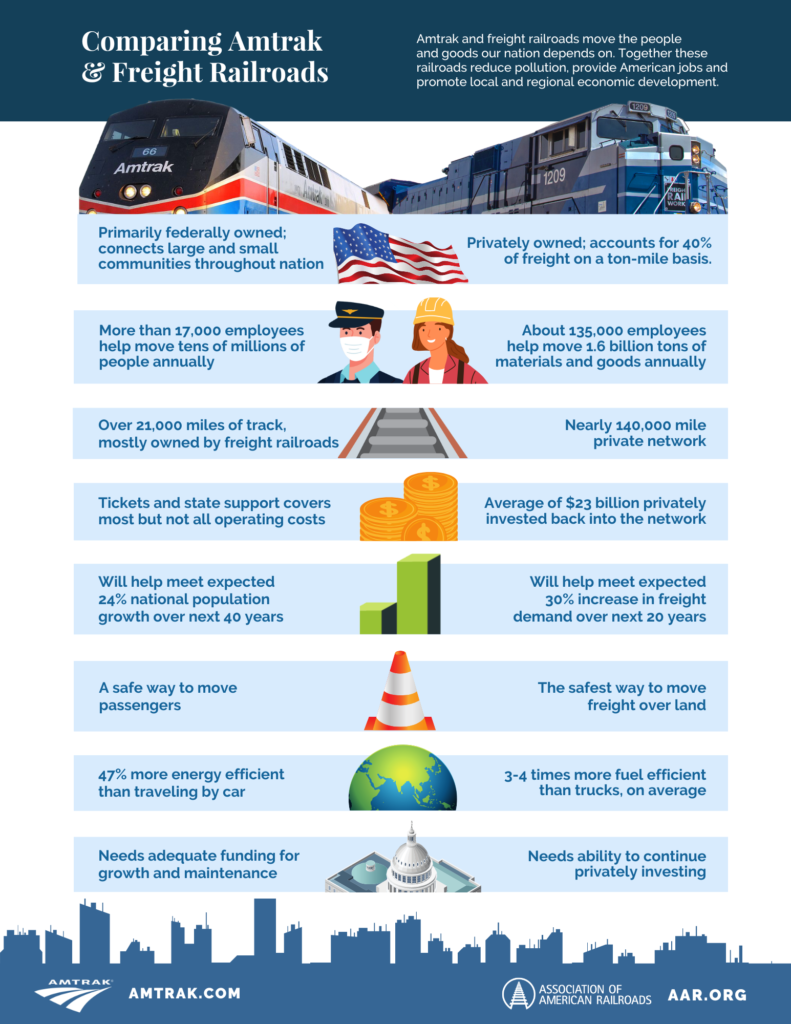 Source: AAR
Related Stocks:
CSX Corp (CSX)
Union Pacific(UNP)
Norfolk Southern Corp(NSC)
Disclosure: Long CSX, NSC and UNP