The Australian economy is a resource-based economy similar to Canada. Exports of commodities such as coal, iron ore, etc. are critical for the economy. In fact, natural resources account for 68% of exports with China being the top export market. With that said, the Australian equity market has performed relatively well in recent years. The market declined by 40% during the Global Financial Crisis (GFC) of 2008. But since then it has had a down year in only 3 years. In 2022, the market as represented by the All Ordinaries Accumulation Index fell by 3% which is not bad.
Overall from 1980 to last year, the number of positive return years is higher than the number of negative years as shown in the chart below:
Click to enlarge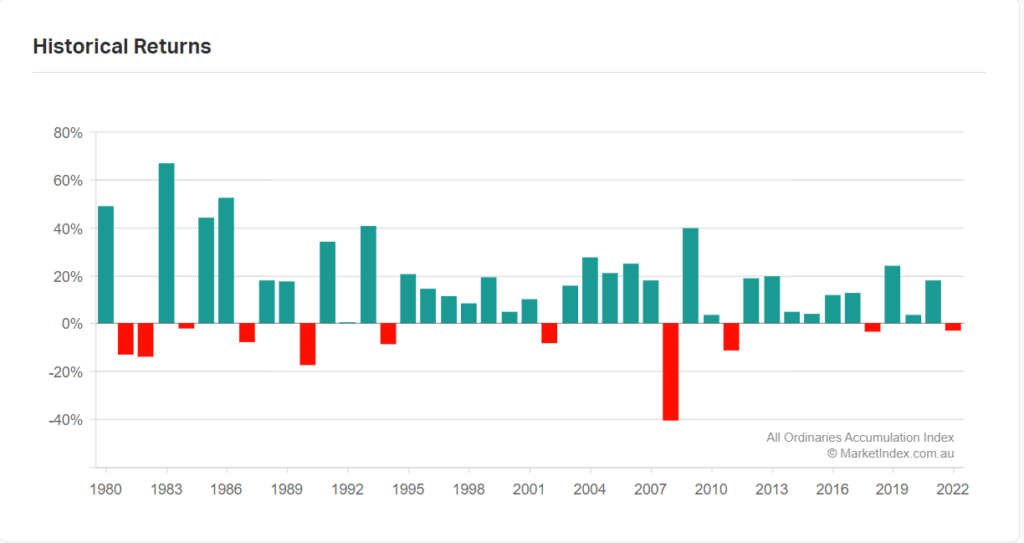 Note: The returns shown above are based on local currency and not US dollars. The index used is the All Ordinaries Accumulation Index which includes dividends reinvested.
Source: Market Index
Related ETF:
iShares MSCI Australia Index Fund (EWA)
Disclosure: No Positions