Apple(APPL) is one of the world's most valuable companies today with a market cap of over $2.5 Trillion. It too many decades for Apple to get to where it is now. When the company did its IPO in 1980 it was mainly known for its personal computers. That is no longer the case. The Apple of today is famous for multiple products from iPhones to iPods to everything in between.
The brand has such a huge cult-like followers that the firm's pricing model for its products is astonishing to say the least. They even sell a cleaning cloth for $19.00 ! This piece of cloth is probably worth a couple of bucks at the most. Eventually Apple may extend its brand's power by rolling out new Apple-branded products outside of electronics such as hotels, restaurants, paper towels, cereals, toys, appliances, cars, cookies, apparel, coffee, mouth wash, shoes, tooth brush, beer, wine, potato chips, resorts, airlines, pens, perfume, bottled water, toothpaste, bulbs, etc. and turn into a conglomerate worth some $10 Trillion or more.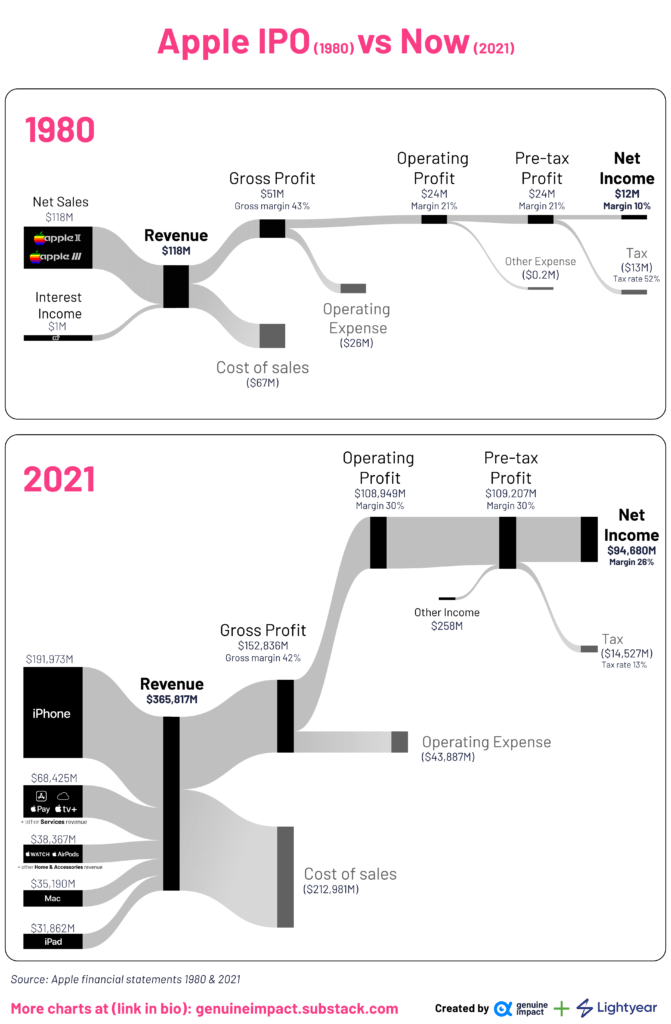 Source: Now vs. IPO: Apple, Amazon, Microsoft, Google & Tesla by Truman, Genuine Impact Newsletter
Hat Tip: Market Index
At its IPO, Apple had a revenue of just $118 million. By 2021, that revenue increased by over 3,000 times. The tax rate plunged from 52% to just 13% which is great for investors.
Disclosure: No positions