The US and Australian economies are vastly different. The Australian economy is resource-based and more like the economy of Canada. Accordingly the Australian equity market is also highly concentrated in the mining of minerals and the financial sectors. The US equity market on the other hand has a low weightage of the minerals sector and is more focused on the tech and communication industries.
The following chart shows the comparative weightage of the various industries in the Australian and US equity markets. The minerals and financial services sector accounts for about 55% of the Australian market. The information technology industry constitutes 27% and the communication industry takes up another 10%. Together these two industries amount to about 37% of the market.
Click to enlarge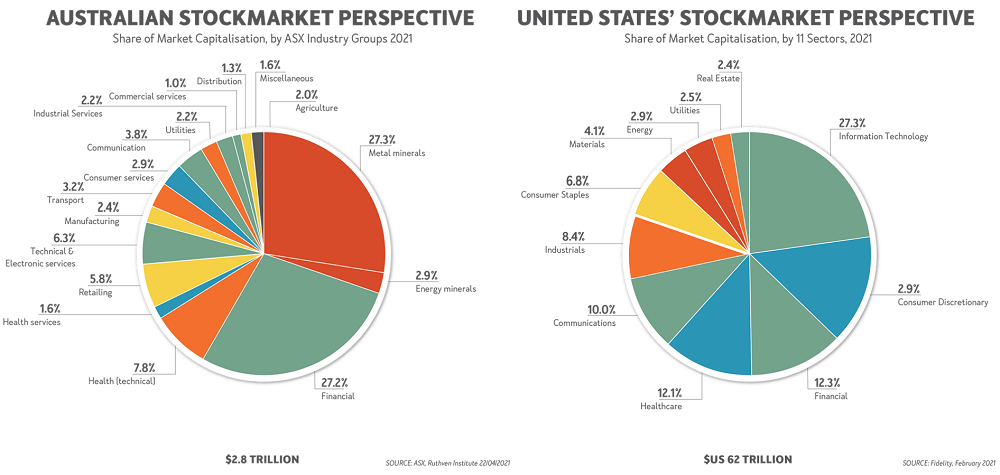 Source: Why does Australia's skewed stock market underperform?, FirstLinks
Hence the technology focused US market has soared in recent years with the growth in the sector. Similarly when commodities boom the Australian stock market tend to perform well.
For investors in Australia it is smart idea to diversify internationally especially with some allocation to US equities in order to profit from the rise of the technology sector.
Related ETFs:
SPDR S&P 500 ETF (SPY)
SPDR Dow Jones Industrial Average ETF (DIA)
iShares MSCI Australia Index Fund (EWA)
Disclosure: No Positions