Investing for the long-term is the best investment strategy as the stock market traditionally goes higher over the long-term but tends to be volatile in the short-term. Over the many decades from 1926 thru 2020, S&P 500 has had many bull markets than bear markets. In fact, many bull markets were longer than bear markets. So an investor that held stocks patiently over both the bull and bear markets was rewarded well.
Click to enlarge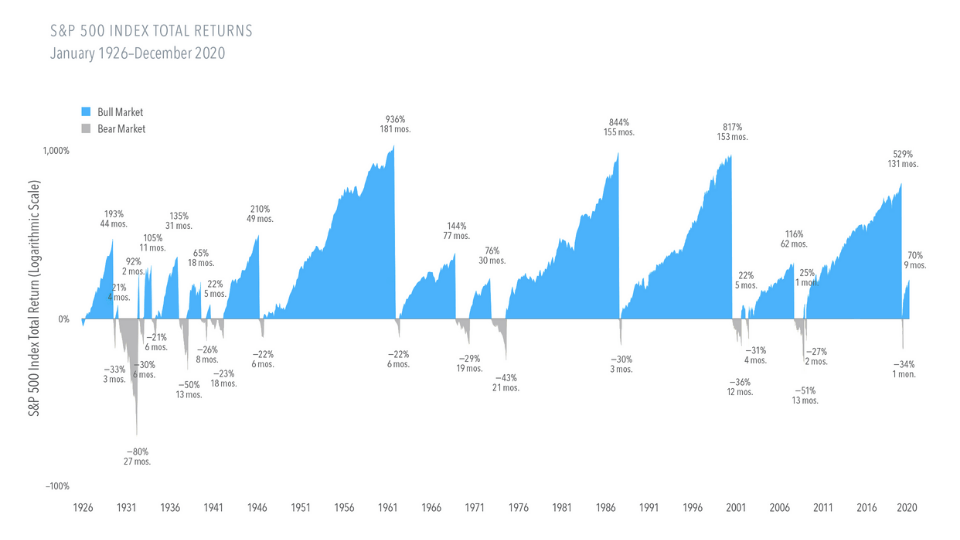 Source: Bulls, Bears, and Long-Term Benefits of Stock Investing by Ginnie Baker, Beaird Harris
From the above article:
From 1926 through 2020, the S&P 500 Index experienced 17 bear markets, or a fall of at least 20% from a previous peak. The declines ranged from —21% to —80% across an average length of around 10 months.

On the upside, there were 18 bull markets, or gains of at least 20% from a previous trough. They averaged 54 months in length, and advances ranged from 21% to 936%.
Related ETF:
Disclosure: No positions