Investing in commodities is not for the faint-hearted. It takes nerves of steel to endure years of pain. Generally for most retail investors, investing in commodities directly is not a wise strategy. However commodities do have a role in a well-diversified portfolio. So adding a small percentage of gold for instance can help protect a portfolio during adverse equity market conditions. With that short intro, the following chart shows the growth of $1 from 1970 thru Jan, 2021. The S&P GSCI Index is considered as the benchmark index for commodities:
Click to enlarge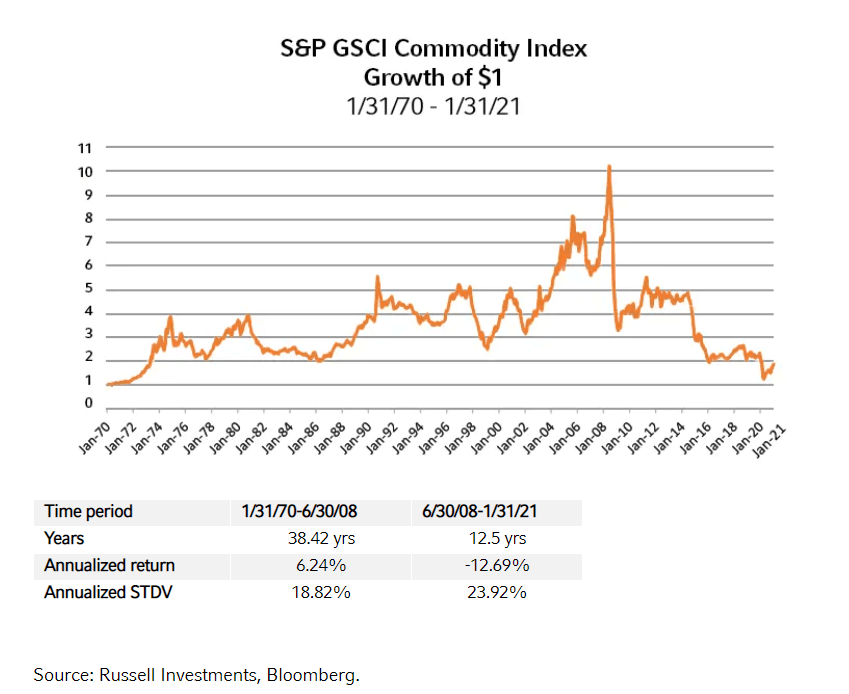 Source: How commodities can play an increasingly important role in portfolio diversification, Russell Investments
Over about four decades from 1970, commodities earned an annualized return of 6.24%. However from mid-2008 through Jan, 2021 commodity investors have suffered years of pains. The annualized return over this period of over a decade was a loss of 12.7%.
Below are the most actively traded commodities in the world:
WTI Crude Oil
Brent Crude Oil
Natural Gas
Soybeans
Corn
Gold
Copper
Silver
Source: Futures Industry Association
Related ETFs:
Disclosures: No Positions
Related article: